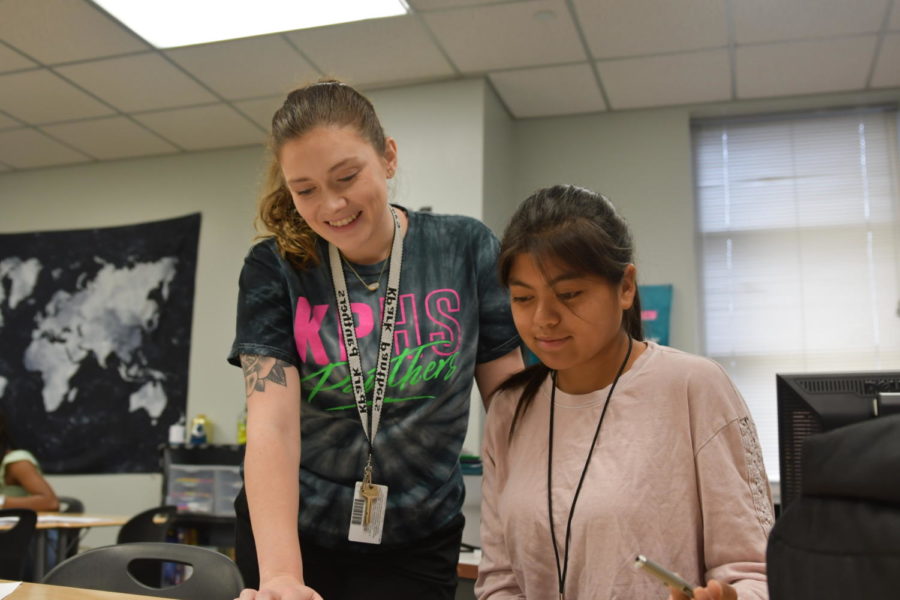 Sydney Caldwell, AP World History
There are many great things about history and AVID teacher Sydney Caldwell, but one of them is her outfits. From flowy skirts to heeled boots, I need it all. Of course, that's not the only thing about Ms. Caldwell that I admire. 
She's probably one of the most interesting people I've ever met. It feels like she's done everything life has to offer. She helped build a rocket, served overseas with the military and has a 4-year-old daughter Ella. The point is, she always has a new story up her sleeve.
The atmosphere in Ms. Caldwell's AP World classroom brings a sense of familiarity, the kind where people are comfortable enough to poke fun at each other, Ms. Caldwell included. You wanna try to roast another student? Don't be surprised if Ms. Caldwell claps back and hits you with a comeback that has the whole class laughing. 
Caldwell's classroom can be a load of fun. She prioritizes interactive learning, meaning we have multiple simulations and projects throughout the year. One interactive assignment that especially stood out to me was during our unit about empires. The class was split up into four kingdoms and students were assigned different roles. Knights, lords, servants and the king. We then proceeded to "claim land" and stack desks upon one another to make our "fortresses." You then battled for land and other things. 
Another one that was especially impactful was our Genghis Khan mock trial project. I was a lawyer and had to prove Genghis Khan's innocence. I feel I learned more from these projects than I would a lecture, and I'm grateful that I was able to have Ms. Caldwell as a teacher.