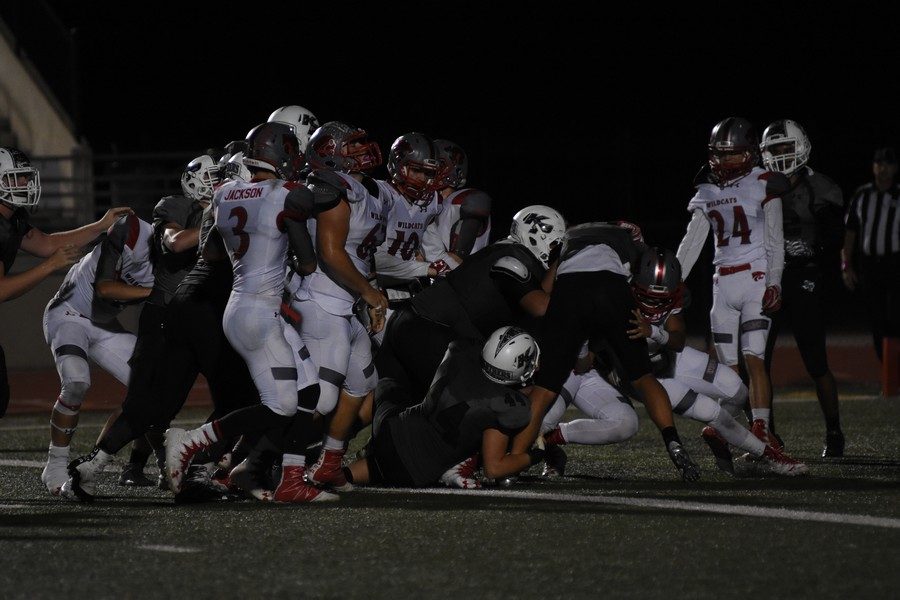 Lisette Harris
With a minute left in the homecoming game, K-Park was up 9-7 against the Splendora Wildcats. A win seemed inevitable.
Then the unimaginable happened.
Splendora got the ball and scored instantly. They moved ahead 15-9, with 57 seconds left on the clock.
The Wildcats kicked it back to the Panthers.
Many fans had already left, thinking the game had slipped away. Those who stayed held their breath.
The faithful got what they were hoping for when Tylan Johnson returned the kick down the 30-yard line to put the Panthers in scoring position.
After three unsuccessful plays, the Panthers were faced with a fourth down. With the game now on the line and the fans all on their feet, K-Park needed the first down. The ball was thrown to Tyler Chavers, who got the first down.
The end zone was right there.
The play came in and sophomore quarterback Sam Johansen called it out to his team.
The ball was snapped. Johansen kept it up the middle for the touchdown.
The Panthers then got an extra point to hold a 16-15 tight lead with 17 seconds left in the game — not enough for Splendora to score.
The game began as an all-out defensive battle during the first half.
At the start of the second, the Panthers were only up by three. Splendora scored quickly to take the lead 7-3.
With the homecoming game on the line, the Panthers had to answer the call.
They struck back but missed the extra point. With K-Park in the lead 9-7, the team and coaches of K-Park took a breath of relief.
Then Splendora's quarterback Noah Dain threw one deep for a Wildcat touchdown. After going for two, the score stood 15-9. With the clock running out, the Kingwood Park waited for the kick, with Tylan Johnson back deep to receive.
The kick came right to Johnson, who caught it and took off. Following his blockers, weaving in and out of tackles, he made it all the way to Splendora's 30-yard line.
With a breath of new life, the Panther's offense set up shop with 49 seconds left. On third down, junior receiver Tyler Chavers made a sideline catch to give the team a fresh set of down with 38 seconds to play.
The offense could smell the end zone, and the Panther's quarterback Johansen kept the ball and punched it in for the score.
Tied up at 15, the extra point put K-Park up by one.
The kick was up and good. Splendora had almost no time left. When the clock ran out, the final score was 16-15.
"We got a dub," said game-changing sophomore Tylan Johnson after the game.
After a rocky start, the Panthers won homecoming in an edge-of-your-seat squeaker, and that's what it was: a "dub." Or simply, a Kingwood Park win.