Alcala bounces back from injuries for one final season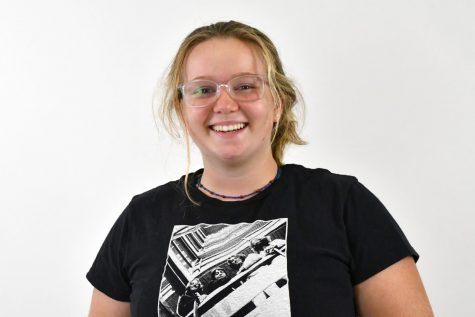 More stories from Gabby Norman
A few seconds was all it took. For senior Luisa Alcala, her dreams of collegiate swimming vanished when she felt the pop. Her childhood dream vanished as quickly as the pain rose.
"I remember it like it was yesterday," Alcala said. "I was swimming butterfly, and from one second to another, I just felt a pop. Then all I can remember is blacking out. It hurt so bad, it was the worst pain I've ever felt in my whole life."
In August 2018, going into her junior swim season, Alcala tore her labrum, a type of cartilage in the shoulder. She was out of swim for five and a half months and underwent rigorous physical therapy. Since recruiting starts in junior year for most swimmers, Alcala was put at a major disadvantage.
"For me, my shoulder was my make it or break it situation for college swimming," Alcala said. "All the recruiting was going on, and that put me behind five months. I was in a place behind, not just physically, but everything."
Alcala was terrified by her shoulder. She knew almost instantly that nothing would be the same, that this was a career-ending injury.
"I just remember it being so traumatizing, and it hurt so bad I couldn't move my shoulder up whatsoever," Alcala said. "I was really upset just because I already knew just from the pain and everything that I was going to be out of swim for a while, I hadn't even gotten my MRI done yet, they hadn't told me about physical therapy."
Alcala eventually got back in the pool, but her progress was slow and she was out of shape. Her shoulder prevented her from going at her previous pace, and she was discouraged.
"Coming back from that was awful, I was out of shape for the region meet, I was out of shape for state. By the time I got back in shape, it was summer, this past summer," Alcala said. "Obviously I try every day in practice, but I can't go too hard. My shoulder will stop, it will just stop working."
Despite the struggles, Alcala still had hoped her senior season may be something special. She suffered a setback early on; however, when a concussion took her out of the pool for about two weeks.
Junior Zach Twomey remembers the moment, thinking it was a minor thing, nothing too serious.
"I wasn't paying attention to her whatsoever, and I did a breaststroke kick right in her face," Twomey said. "I remember looking around cause I had no idea what I hit, and then Luisa came up."
Twomey felt bad about what happened, especially since he knows how hard dealing with injuries can be. He tore his groin last December, taking him out of swim for six months.
"During the injury, you can't be in the water at all," Twomey said. "Getting back into the water is the hardest part. You're getting back into shape, and you are still recovering and you feel like crap."
Alcala still struggles with her shoulder at times, but nothing has been harder than being out of the pool and then having to come back.
"
I'm trying to get better but it's hard when my shoulder is just like, 'Stop, what are you doing, stop,' and everyone else just keeps getting better, keeps dropping time.
— senior swimmer Luisa Alcala
"With physical therapy, that hurt, that was super painful," Alcala said. "But coming back hurt even more. I'm trying to get better but it's hard when my shoulder is just like, 'Stop, what are you doing, stop,' and everyone else just keeps getting better, keeps dropping time."
John Dissinger, the girls' head swimming coach, still has hopes for Luisa. She may not have the future they imagined two years ago, but it is a bright one nonetheless.
"Luisa always rises up at the biggest meets," Dissinger said. "She can swim most any event, sprint or distance. I hope she will be a leader for all the freshmen we have this year."
One of the biggest reasons Alcala continues to swim is her teammates. The community is Alcala's favorite part of swimming. But even her closest teammates struggled to find the right words to help her.
They were like, 'We feel so bad, we can't imagine,'" Alcala said. "They can't, they can't imagine, all my friends were trying to make it seem like they knew what it was like, even though they didn't. That was one frustrating thing about it."
The frustration mostly stemmed from Alcala realizing her dream of swimming in college was over. The plans she had since she started on her neighborhood swim team are now changing. She has to come up with a new dream.
"I took the sport for granted," Alcala said. "Swimming, for most people, is a love/hate relationship. It's really tough. I just took it for granted. I would go to practice and every other day. I would dilly dally and do my own thing, not really work as hard as I should, then I would be like, 'Ehh it's fine, I have tomorrow,' not knowing that one day I wasn't going to have my tomorrow."
View Comments(1)
Your donation will support the student journalists of Kingwood Park High School. Your contribution will allow us to purchase equipment and cover our annual website hosting costs. The journalism program at Kingwood Park is funded solely from student sold advertisements and community support.