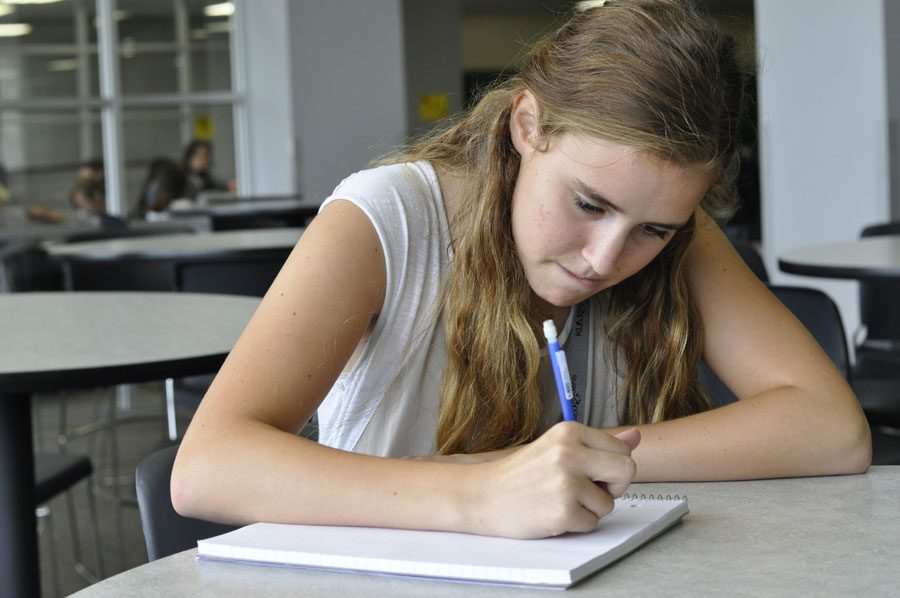 "Some people become doctors to help save people, well I kinda did that with writing. I want to write to be able to save someone else's life without having to meet them," - Erin O'Shea, sophomore.
---
As a child, Erin O'Shea read books to help her get through the ups and downs of life. Today, O'Shea writes her own stories in hopes of doing the same for others. 
O'Shea discovered her love for writing in seventh grade, when a RELA teacher spotted her natural talent and asked her to write a fictional story to read to other classes. O'Shea wrote a fanciful short story on Greek mythology inspired by Rick Riordan's Percy Jackson series. It was then that O'Shea realized that she had a knack for stringing words together.
Feeling proud and inspired, O'Shea kept writing. She started by creating poetry then evolved to writing about things she had seen or conjured up events she wished to experience.
Her seventh grade teacher may have first prompted her to write, but she has had many mentors. Her fourth grade teacher helped guide her in her writing and answer any questions she had. Her middle school librarian, Ann Burns, discussed books and life, making O'Shea feel more like an adult rather than a student. 
Writing makes O'Shea feel like she has power. It makes her feel like she has control over something. O'Shea intends to continue to write until she experiences the things she puts down on paper.
---
- 
Sarah Martell
, Photo Editor
Erin O'Shea, Staff Reporter
May 23, 2017

Softball breaks school records in playoffs

(Story)

Apr 10, 2017

Castille brings March (Book) Madness to the library

(Story)

Mar 10, 2017

Softball looks to make history again this coming season

(Story)

Feb 10, 2017

Softball leader Madeleine Hart to play college ball next season

(Story)

Dec 13, 2016

K-Park students celebrate winter holidays in unique ways

(Story/Media)

Nov 10, 2016

Marvel bends time, space, and minds in "Doctor Strange"

(Story)

Oct 27, 2016

Exchange student experiences new country, new culture at K-Park

(Story/Media)

Sep 16, 2016

K-Park sophomores take on challenge of AP Psychology

(Story)

Sep 29, 2015

Humans of KPARK: The Shy Singer

(Story/Media)