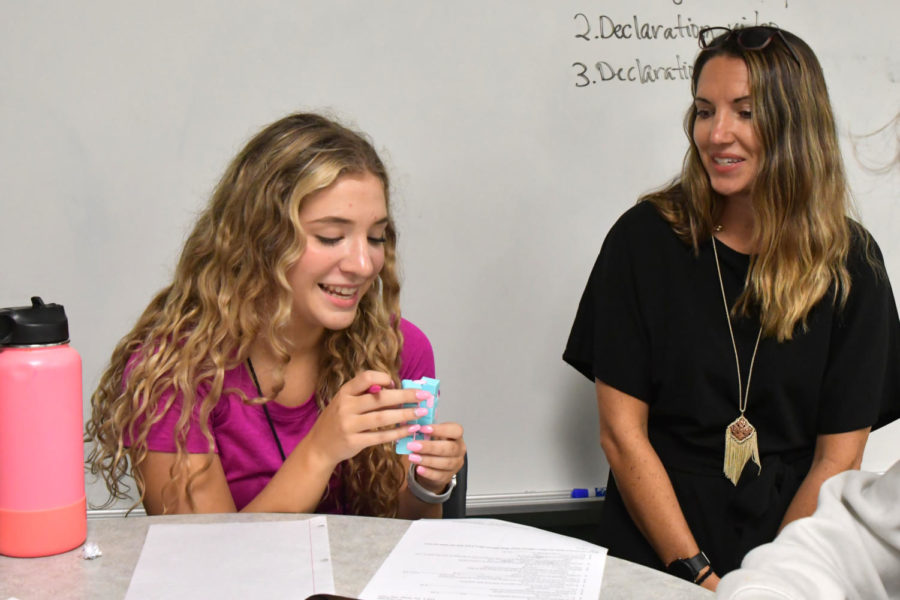 Abby Wyllie, English teacher
When I first walked into my AP English classroom this year I thought I was in the wrong class. There were camping chairs, yoga balls, tall and short tables and the room just looked like chaos at first glance. But as the year went on I grew to love the  chaos of the room. I wouldn't call it chaos anymore, it is more an organized chaos — which is why I love it. The different seating options make it feel more home like than a regular classroom. 
Abby Wyllie prides herself on her ADHD-friendly classroom, because she herself has ADHD. Her lessons reflect this too. They range from a normal PowerPoint slide, to putting together a Twitter feed about a guy who hates The Cheesecake Factory. Her teaching is either rambling on about her family or a story about her life that makes you question why she became a teacher. 
It's English so there is reading but the books are different than most books from past years. We have read about a war, a man who went on a life journey and now about social problems. These make for interesting reads, along with some very interesting discussions between the class and Mrs. Wyllie. The books have always been my favorite part of English, so having new and interesting choices have made English amazing this year. 
Along with her accommodating room, she also understands that most kids don't want to spend their weekends worrying about AP English so she tends to make stuff due before then so that we can all have a break from English. While English has always been just a mediocre subject for me, this year I tend to look forward to it everyday and have created some of my favorite memories of the year.