Join the Team
Thanks so much for taking an interest in becoming part of one of the most active student organizations at Kingwood Park High School and one of the strongest scholastic journalism programs in the country.
Start taking photos and writing stories, creating podcasts and selling business ads today! Sign up for Journalism or Photojournalism and see YOUR work published. Here's an informational flyer that was handed out in school this year.
Application Information for Staff Members
Below you will find links to the General Staff Application and the Editor Application. Please read each description closely to find out what you need to take care of. The applications are for the 2022-2023 school year. Applications are due in the coming weeks and next year's staff will be posted on KP Media's social media channels @KPARKmedia. If you have any questions, please email Mrs. Ortiz at [email protected] or find her in room 1504.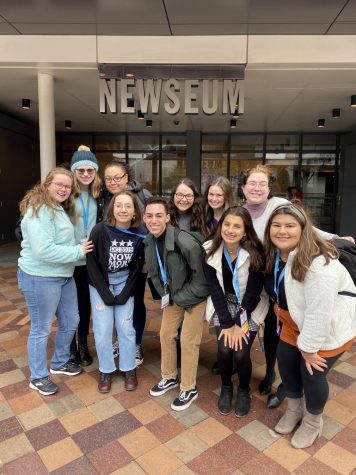 All students wishing to be on staff (even those currently on staff) need to fill out an application for next year.
Click on the link above and fill out the general staff application. ALL students (whether you are applying to be an editor or not) need to fill out this online form. Fill it out completely and submit when you are done. Please note that you cannot save your work so the questions need to be completed in one sitting or you need to answer the questions in another program like Word, and then copy/paste your answers into the form when you are done. The General Staff Application is due Feb. 4.
This application only needs to be filled out by individuals who would like to be considered for one of the editor positions on staff. Individuals filling this out must also fill out a General Staff Application. Editor Applications are due Feb. 4. (The General Staff Application is also due at that time.)