After winning the top award at the state journalism conference early in October, students in the journalism program will fly to Boston to compete in the JEA/NSPA National HS Journalism Convention on Nov. 1.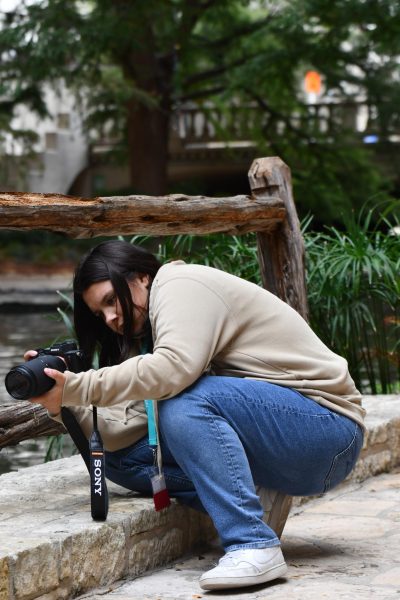 Two students are already up for three national awards. Senior Maya Ortiz is up for Photojournalist Of The Year, as well as Writer Of The Year. She won Photojournalist of the Year at the last two national conventions.
"I really do enjoy award ceremonies; I'm nervous, though, because I like to win," Ortiz said. "I'm just excited to hang out with everybody in Boston, which is such a fun city that I've never been to."
Junior Shelby Townsend is up for Cartoon Of The Year. It will be her first time attending the convention.
"I am really proud that I'm up for a national award," Townsend said. "That is really exciting. I was really surprised when I found out. I'm also really proud of Maya for being up for national awards. And also just proud of everyone, for us being able to have the resources to get there."
Fifteen students will be attending nationals this year. For 10 of them, it will be their first time.
Each student will compete in a national competition while there, as well as attend sessions, meet professional journalists and tour parts of Boston. Junior Fallon Head attended nationals last year where he placed in on-site news writing.
"Journalism is a really big part of my life, so being able to go to conventions – state and nationals – allows me to get to know people I wouldn't otherwise talk to who are also passionate about journalism," Head said. "At nationals especially, it's always fascinating to hear other states' issues and battles and accomplishments. And so I'm really proud of how far our staff has come in the past couple of years."
The staff won 29 awards at the Texas Association of Journalism Educators Fall Fiesta in San Antonio on Oct. 9. The students won 25 individual awards and all three publications – newspaper, yearbook and KPTimes.com – placed in the top two in the Best of Show competition.
For the second year in a row, the students also won first place in Sweepstakes, which is awarded for winning the most points overall at Fall Fiesta. More than 600 students represented 60 schools from across the state.
"My students don't always see themselves as being among the elite journalism programs in the state," journalism adviser Megan Ortiz said. "I can tell them all year that I am proud of them and that what they are doing matters, but to hear their name called in front of everyone else at the state conference really means so much to them."
Fall Fiesta Recap
Staff Awards
Sweepstakes – 1st Place
Print Newspaper (Small School category) – 2nd Place
Online News – 2nd Place
Yearbook (Books with 0-260 pages) – 1st Place
Individual Awards
Maya Ortiz – Infographic (Superior), Photo Portfolio (Superior), Feature Photo (Excellent), Sports Action Photo (Superior), Contrast Photo (Excellent), Convention Photo (Honorable Mention), Reflection Photo (Honorable Mention)
Arleigh Doehring – News Photo (Superior), Sports Action Photo (Honorable Mention), Advanced Yearbook Design (Honorable Mention), Taste of San Antonio Photo (Excellent), Lines Photo (Honorable Mention)
Fallon Head – Feature Photo (Honorable Mention), News Writing (Superior)
Grace Darcy – First-Year Photo (Excellent)
Shelby Townsend – News Photo (Excellent)
Kaitlyn Sitton – Marketing (Superior), Newspaper Design (Excellent)
James Pham – Beginning Yearbook Design (Excellent)
Sydney Ortiz – Taste of San Antonio Photo (Superior), Contrast Photo (Superior)
Maddie Glenn – Taste of San Antonio Photo (Excellent)
Morgen Dozier – Feature Photo (Superior)
Victoria Anisi – First-Year Photo (Honorable Mention)
Victoria Anisi, Amy Helton, Bella Barajas & Precious Solomon-Rhor – Public Service Announcement Video (Excellent)