Like Father, Like Son
With a rodeo champion as his father and Texas rodeo Hall of Famer as a grandpa, 7-year-old Shiloh Wilson carries on the family tradition.
The nerves were intense as Shiloh Wilson tried to regroup after being bucked off his first horse in the biggest rodeo competition of his short career. A moment before the 7-year-old got on his second horse, his dad thumped him on the chest.
"Son, you got this," Jeff Wilson said. "I told you, you got this. Now get on this horse and ride this horse."
Shiloh stayed on his second horse long enough to be taken off of it by the "pickup man." His smile, his dad said, was priceless.
It is a smile of a third-generation cowboy. A smile that can be donned only by a grandson of a Texas rodeo Hall of Famer. It's a smile Shiloh's dad and grandfather both flashed during their championship rodeo careers.
"I'm leaving a legacy behind me," Shiloh's 87-year-old grandfather Stanley Wilson said. "I'm just all around proud.
"I really enjoy watching Shiloh ride. He's so young, he's just thrilled to death with it."
***
Collision and refinishing teacher Jeff Wilson began training Shiloh for rodeos when Shiloh was 3. The passion for rodeoing is three generations in the making for the Wilson family.
Stanley Wilson competed in rodeos for about 22 years. Jeff followed in his footsteps.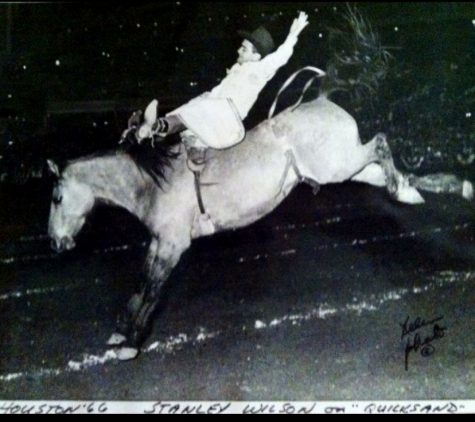 Jeff started riding steers when he was around 8 or 9. He then rode bulls until he took a three-year break to focus on college and his teaching career. He put rodeo on the back burner until he ran into a friend who was riding saddle bronc horses.
"I watched him ride that bucking horse and I went with him to a couple more rodeos," Jeff said. "And I went, 'I want to try that.'"
In 1995, Jeff started riding saddle bronc horses. At 26, he won rookie of the year; and at 33, he won a world class championship.
He taught during the week. Then when the bell rang at 3:30 p.m. on Fridays, he traveled to wherever his rodeo was that weekend.
Finally in 2004 at the age of 35, Jeff Wilson was ready to retire. He had fulfilled everything he possibly could in the rodeo world. He couldn't get any better, and it just wasn't as exciting or fun as it used to be.
"Don't get me wrong I enjoyed going and getting on them, but the thrill wasn't there anymore," Jeff said.
However, in October 2004 he unknowingly competed in his last professional rodeo.
A week later Jeff was riding his motorcycle on the highway when a young woman pulled out in front of him. The crash almost killed him as he and his motorcycle flew over the car.
"It was horrifying, terrible," Stanley Wilson said. "I was more scared of him riding that motorcycle than I was him riding horses."
In the only time Jeff ever feared for his life, he was propelled about 60 yards across the highway before stopping.
Jeff was life-flighted to the hospital with injuries to his spleen, liver, sternum and lungs. His right leg was shattered and his right calf muscle was ripped from his body. The accident affected him in more ways than just physically.
"I wanted to retire the way I wanted to retire," Jeff said. "And I would like to have done it by maybe winning one last rodeo or at least making one really good ride at the finals or whatever and then hanging up my spurs."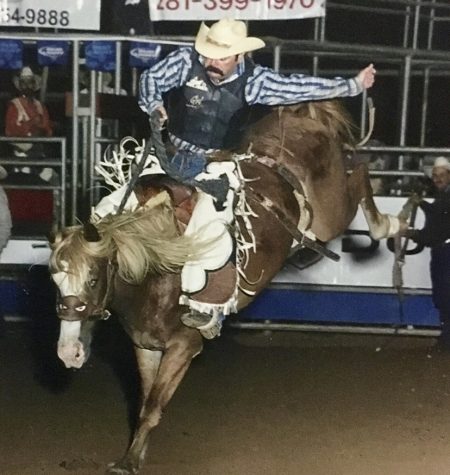 He suffered numerous injuries during his rodeo career, including broken and separated ribs, torn ligaments, concussions, and one incident where he almost suffocated beneath a 1,200-pound horse. The motorcycle accident, however, ended his whole career.
He was never able to ride a bucking horse again. His passion was taken away from him so quickly and unexpectedly, it made him bitter.
"Rodeoing was a passion, it made money," Jeff said. "This is a second job and this little girl took it all away from me. It wasn't intentional, but it still took it away from me, and I never got to have the closure that I wanted to have when I retired from rodeoing."
***
Now, he finds himself back in the chute with hands shaking each time his son gets on a bucking horse of his own.
Shiloh knows his dad and grandpa's rodeo history. In December he'll be the third Wilson to ride at the Cowtown Coliseum in Fort Worth when he competes in the Junior World Finals.
"My dad is really great and he's just an all-around cowboy," Shiloh said. "He just wants to protect my family and everybody. He's just a really good person."
Jeff's wife Amber Wilson describes his coaching style as firm, but gentle.
"I've watched him teach other children for 13 years but when I'm watching him teach our own son something especially that he's so passionate about, you just see the pride on his face," Amber said.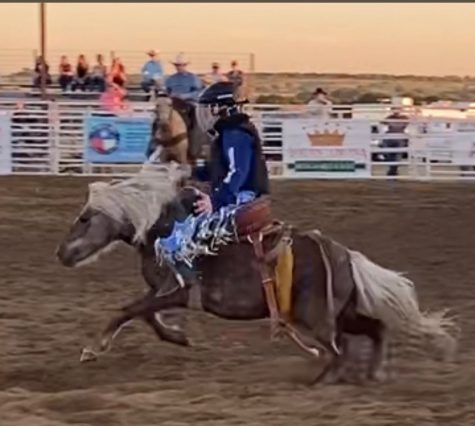 Years of riding at least three bucking horses a week, along with the motorcycle accident, have taken a toll on Jeff. Despite retirement being filled with reconstructive shoulder surgery, three back surgeries and a knee surgery, Wilson's passion for rodeo has never dimmed.
His injuries will never allow him to ride in front of Shiloh or demonstrate any skills, but their shared love of horses and rodeos has helped create an impenetrable father-son bond.
"It's drawn us closer, but you can't get much closer than a father's love to his son," Jeff said. "How do you weigh that? You can't. It doesn't matter if my son rodeoed or not, he's still the apple of my eye."
If history in the Wilson family is any indication, those feelings will only strengthen over time. Stanley Wilson's goal for his grandson Shiloh is to become a good man, regardless of whether he continues to rodeo or not.
He knows Jeff is setting the perfect example.
"I'm more proud of the things that he's accomplished along with rodeo than I am the rodeo," Stanley said of his son Jeff. "He became a teacher awful young, and he stayed with it. I understand that he's a good teacher, and that makes me proud.
"He is also watching over his son and giving him an early start to see if he's really wanting to rodeo or not when he gets older. I'm just proud of him, period."