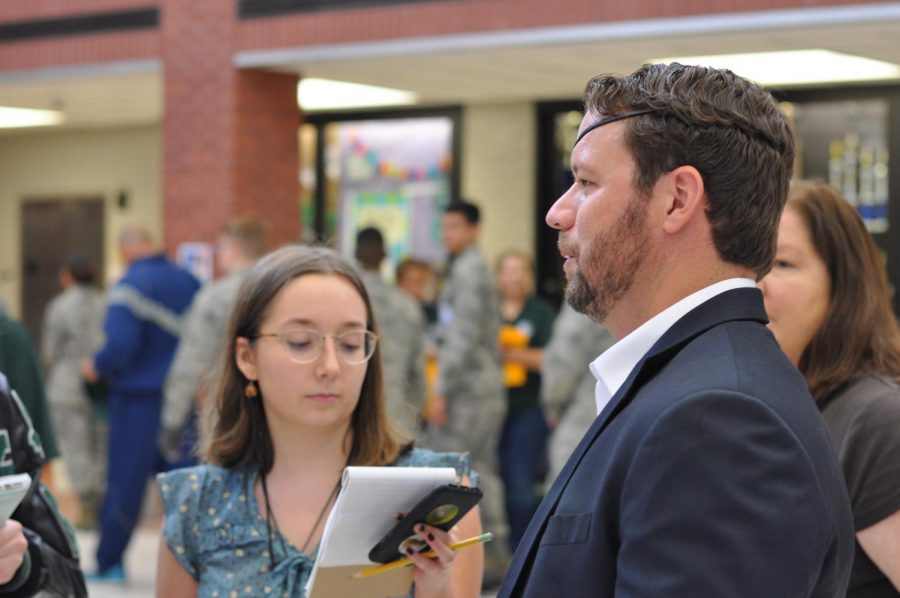 Election season only beginning
November 4, 2019
With a year full of election coverage ahead as we move toward the 2020 presidential election, students should be paying closer attention to what their local government leaders and politicians are saying.
Crenshaw's visit brings political discussion to future voters
Not every high school campus gets to experience a sometimes polarizing figure during what is normally their lunch time. Though despite what one's political views may be, juniors and seniors, many of whom will be voting soon, were able to take time out of their day and listen to a possible future presidential candidate.
As Congressman Dan Crenshaw arrived to give his speech in the auditorium, the JROTC lined up outside to greet him. Once inside Crenshaw took a few photos with them and was introduced to the social action club.
"We want to meet the kids and tell them about public service," Crenshaw said during his visit.
Most of his speech was far from that. I was expecting to hear all about the many ways we can learn how to give back to our community and so forth, but he kind of just went straight politician and managed to convince many students that he is the one they want to have represent Texas and possibly even the United States.
Of course most of the students that went to hear him were already convinced that he was amazing, but I did hear some who, after only knowing him from his Saturday Night Live appearance, became sure that he was the politician to look out for.
Coach Luke Gorney, the AP Economics and U.S. History teacher as well as assistant soccer coach, told the audience at the very beginning how the speech was not meant to be political and that we should make sure our questions after didn't contain anything that could turn this into a political debate. It truly didn't work.
His opening was a climate change joke. Not going to lie, it was sort of funny, but at the same time not really. The only reason it worked out just fine was because he is in Kingwood and we all know the political party most people here tend to align with. Personally, I feel like at this moment joking about things like that, at least in the way that he did, is not the smartest. If you happened to miss it feel free to check his social media where he has said it before, almost word for word.
Don't get me wrong, he did go and talk briefly about his time as a Navy Seal and how afterward he looked for other types of service, which, as we all know, became politics. Once he got to that it felt like he was trying to gently lead the audience onto his patriotic views; most likely because he knew there were probably small groups of liberal students in the room.
In my opinion, that is the main reason why he managed to get ahold of the audience so well. Anyone who was there knows the chaos incited once people were allowed to take photos with him. There was pushing and people tripping all in order to make it to the stage where he stood patiently. They were enamored with him.
He didn't start explaining what he thought on gun control, abortion, or climate change, but he did say how he was not one of those politicians to make promises to his people. According to him, politicians who make big promises to the people are only setting them up for failure. He isn't necessarily wrong, but he expressed this in a way that showed how he was completely sure of himself.
"Don't believe the false promises government gives you," Crenshaw said. "When a politician like me comes up and promises a lot of stuff and promises to make you happier be skeptical, and go back to questioning why governments exist in the first place."
Our generation needs to learn how to listen carefully to politicians and make sure we are not falling for any false promises. At the same time, we need to make sure that if the politicians we are looking up to are making promises that they are promises that are good for us and, even more importantly, good for our society.
Leave a Comment
Voting is a privilege students should use
Young people all over the world are taking charge and changing people's perception of the youth and more importantly, bringing light to serious issues.
Greta Thunberg is one of the most well-known and influential climate change activists in the world at just 16 years old.
David Hogg co-founded the group March For Our Lives that leads anti-gun violence marches and protests all over the U.S.
Jaden Smith, 21, co-founded JUST Water, a company that supplied Flint, Michigan, with clean water in sustainable bottles, and is working on installing a water filtration system for the entire city.
Some young people are also making a difference on a smaller scale like David Ledbetter, a 17 year old high school student who made the national news for registering people to vote while waiting in line for a Popeyes chicken sandwich.
It's becoming more common to see students stepping up, speaking out and making a difference in something that matters to them. However, you don't have to start a movement to make a change. Educate yourself about current events, stay updated on the news and form your own opinions on things you care about. Most importantly, make sure to register yourself to vote and show up on election day.
According to the U.S. census, the voter turnout of 18 to 29 year olds in the 2016 election was a little over 46 percent, which was the lowest of all age ranges. This is a stark comparison to the 70 percent of people 65 and older who voted. Young people make up the majority of the population and the least amount of voters.
The issues people are voting on most directly impact the lives and futures of today's youth, so young voters are needed now more than ever.
The vast size of the younger generations enables them to have the power to sway the election. It is the right of all Americans to have a say in what happens or does not happen in our country. If you want your voice to be heard, you must go out and vote.
Leave a Comment