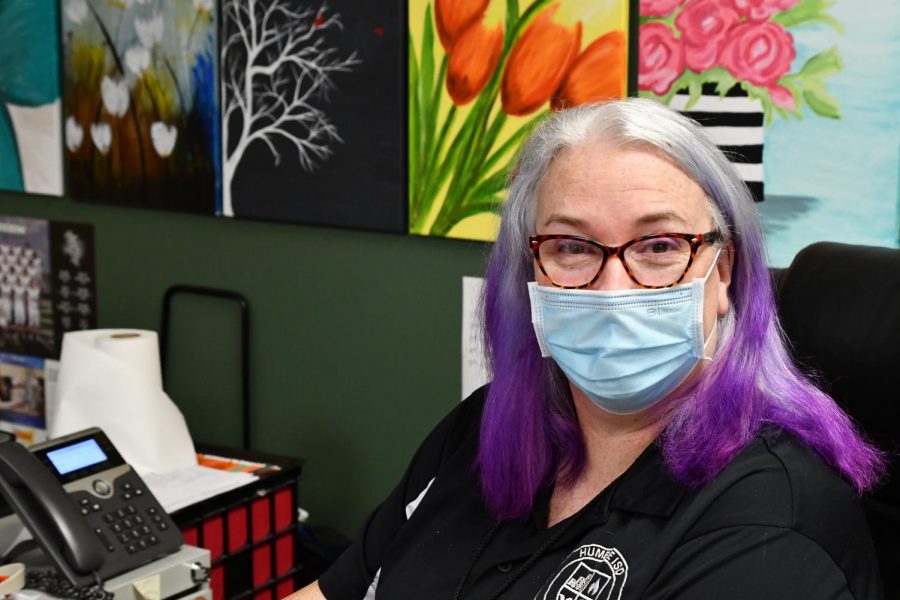 HazelAnne Prescott, AP Human Geography
I only needed to see the back of HazelAnne Prescott's head to know it was her. Walking down the hallway, rocking purple hair, she smiled and greeted me as she walked by her AP Human Geography classroom. I wasn't surprised to see her hair purple — in fact, I was grinning from ear to ear.
You see, Prescott isn't an ordinary teacher. She promotes not memorization and regurgitation, but actual understanding of a subject. She genuinely cares about each and every student (she still asks me how I'm doing even though two years have passed) and she helps her students appreciate the subject.
Prescott is the ultimate teacher – she loves motorcycles, history, and having fun with her students. Her class travels the world (figuratively), learning about the people, places and cultures that helped shape our nation and world. Chocolate day and interactive lessons were looked forward to and enjoyed immensely. Even the tedious elements of any AP class (seemingly endless notes) were made fun, she let her students listen to music and was open to discussion of topics in need of further understanding. Overall, her classroom has an open and positive atmosphere — something necessary for students to thrive.
As a freshman going into Kingwood Park, it was my first time being exposed to public school. I had a few teachers that I connected with, but none so much as Mrs. Prescott. She's part of the reason I love history as much as I do. She inspired me to not settle for the ordinary, but to accept challenges and use them to better myself. Also a leading member of Rho Kappa, the social studies national honor society, and AVID, Prescott is devoted to bettering her students' lives. She exemplifies the ideals behind Kingwood Park, which is why her students — past, present, and future — love her and her class.