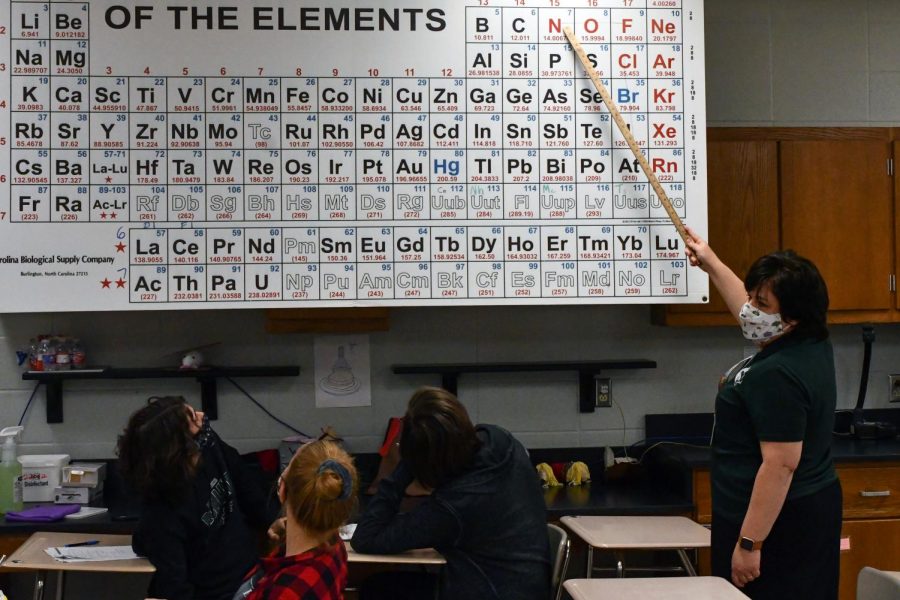 Laurie Rosato, chemistry
Everyone in the 2200's hallway knows when chemistry classes are learning about stoichiometry because of Ms. Rosato's pure joy and boisterous voice. She carries that passion and excitement through all her units, but stoichiometry happens to be the most notable.
She truly loves chemistry and it shows. She plans fun labs and shows them off to everyone on Twitter. More than that, she cares about her students deeply. She takes student input seriously and cheers them on for everything they do. Anytime your name is on the announcements or you do something cool, just know that Ms. Rosato will be the first in line to congratulate you.
She makes sure to get to know all of her students and works with them to find something chemistry related that they would enjoy. 
However, one of the most significant things that makes Ms. Rosato special is her humor. She's sometimes unintentionally funny, like the way she attends all Zoom meetings with her face really close to the camera, but often her comedic timing and boisterous voice makes for perfect jokes. Even corny chemistry puns are funny when they come from Ms. Rosato.
This year was Ms. Rosato's first year teaching OnRamps and she spent countless hours sending messages to UT and other chemistry teachers making sure her students had the best experience possible. She's an amazing advocate for her students.
She's the perfect example of kindness, humor and great teaching.