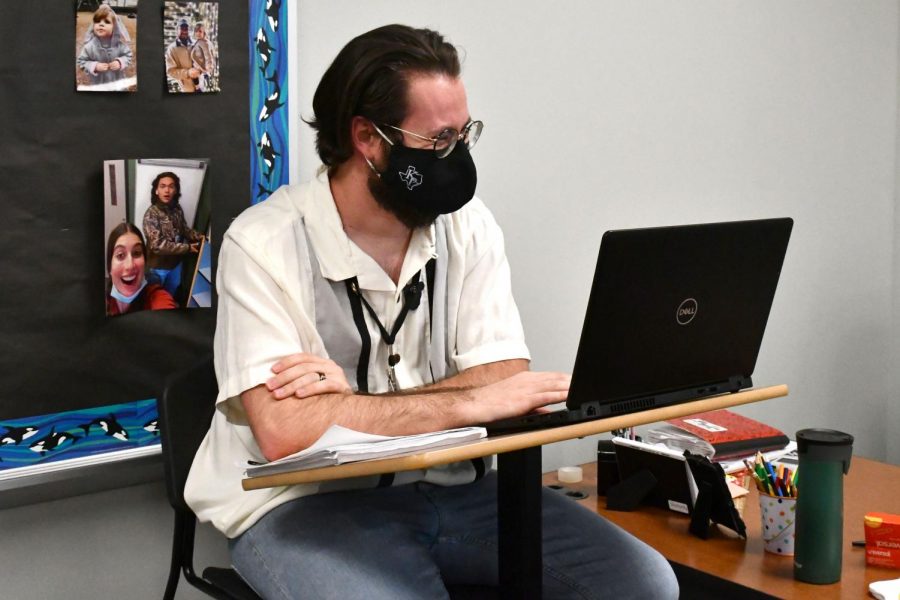 Luke Kemp, geometry
At first glance it doesn't seem like much. A medium-sized classroom with bare walls and only three posters as decoration, but Lucas Kemp's room doesn't need to have decorations.
This year has been hard for everyone and he has made it a little easier. He always responds to messages as soon as possible; and if you make mistakes about due dates, he is lenient. At the beginning of the year, he told us that if we don't understand something then it's his fault for not explaining it correctly and we should ask for help. Anyone can ask him anything and he won't make you feel dumb. Often though people don't have many questions because his teaching style is easy to understand. He wants all of his students to be successful and tries his best to make that possible.
He is genuinely a nice person always wanting to help you get better. It's because of that he tries to keep kids from cheating. He wants to help make sure they learn to find the right answer because he knows that when you take tests, you won't have someone sending you the answers.
He is a great teacher and I am very grateful for having him as a teacher.
By Camille Blair
***
I never knew a geometry class could ever be so fun. Luke Kemp, a geometry on-level teacher, is personally the best teacher out there. He and is wife — an English teacher — both work at different high schools.
His classes run different than most because his first through fourth periods are online due to COVID. His fifth through seventh periods are in person. By fifth period, he is normally super energetic and pumped because that's his first face-to-face class. That period is always hype.
There are many fun kids in his class, which make it even better. He is always in the hallways patrolling in the morning since it's his morning duty; and he normally will always say hello or good morning. He is always finding a way to interact with the students. Mr. Kemp has always been the one to make a kid's day. He either will start out the class telling us about his weekend or share a weird or fun story. We then talk about what we did, and he's just a great teacher.
By Alyssa Cavanaugh