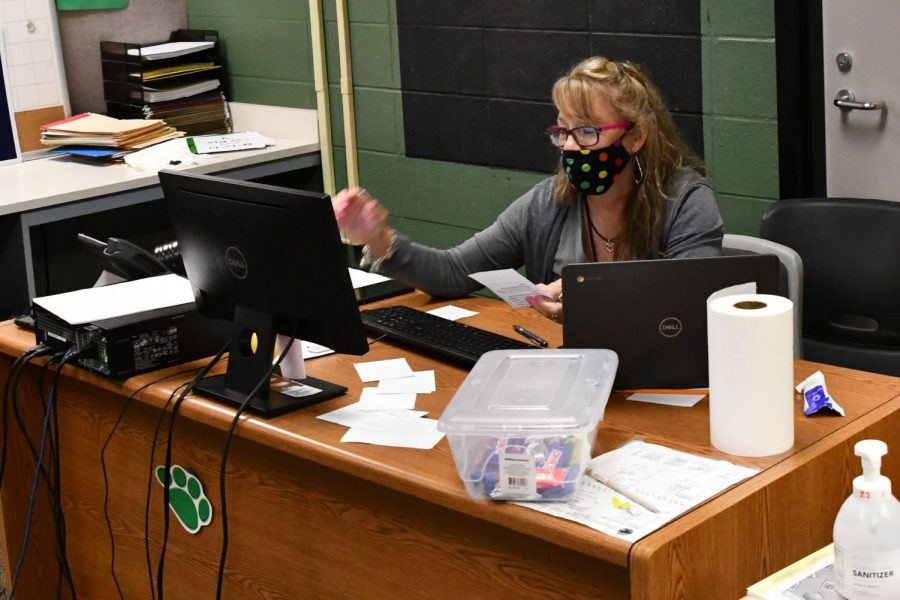 Kim Ackerman, Teen Leadership/coach
Coach Kim Ackerman teaches Principles of Education and Teen Leadership while helping coach boys track and cross country. She has an energetic and outgoing personality that fits well with her calming and welcoming classroom filled with couches and dimmed lights. It's always the best part of the morning and a reason to look forward to school.
She likes to connect with her students by having "good thing" celebrations at the beginning of class, which is where you say good things that happened since the last time you were in class. She helps a lot with confidence and being able to speak in front of groups. We always have projects in her class where we have to present and she always makes it easier with her welcoming personality. Her lessons are always fun to listen to and she always has a fun activity or project to go with it. Her lessons always end up in a huge group discussion which takes up the whole class and is really fun. She is always moving around the classroom during her teaching and keeps things interesting. She also likes to do a lot of student-led activities, which helps her students open up and get closer to one another.
Coach Ackerman always has such a positive impact on people. All of her past students have said how amazing her class was and how much she impacted them. Even students who have never had her as a teacher know how amazing she is. They just know her from stories her students tell. She does everything she can to make sure all of her students are happy and safe. She's not only a teacher for her students but a mentor, therapist, counselor and caregiver. She devotes so much of time to her students and hopes to never have to retire because she loves teaching so much.
By Daisy Ramirez
 * * *
Going into high school, I never had intentions of running track. If I am being honest, that was the last sport I wanted to participate in. Leaving middle school I told myself that I wouldn't go back because I lost my motivation to compete. During the second semester of my freshman year, I surprisingly found myself going to practice one day due to my old team messaging me about running the relays. Although I was skeptical, I decided to go but only with strict restrictions on what I would do. Going onto the track in the cold and rain was definitely not ideal. Thoughts on going home were clouding my mind until I saw and met coach Ack.
My first impressions of Coach was that she was bright and energetic. She was beyond happy to be getting another runner. She just asked for me to do my very best, and I did that to my best of my ability. As she watched me run I could tell her joy only grew. Having her tell me she was amazed at my ability brightened my mood and only pushed me to work harder and become a stronger runner. Her praise meant the absolute world to me even though we had just met 30 minutes prior.
Her encouragement and dedication to her kids is beyond job qualifications, but she does it every single day no matter rain or shine. She encourages us all to be better people and to be better athletes. In her class she helps her kids gain confidence so they are ready for the real world. Everyone tells me about how fun her class is and how passionate she is teaching it. Nothing helps us students more than having a passionate teacher. Coach Ack is passionate about what she does; and when this senior class graduates, she'll have even more students that will come back and visit her.
By Richard Rivera