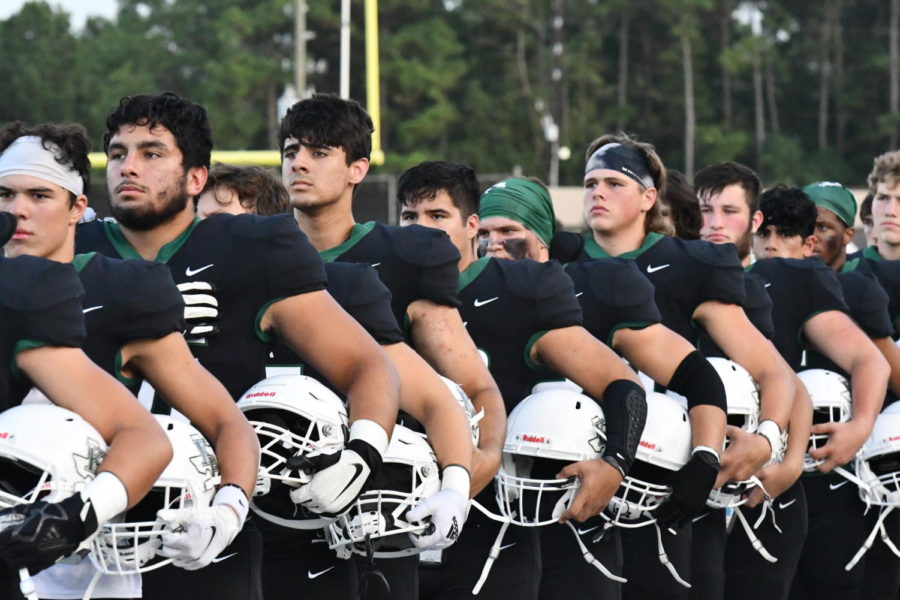 Defensive line looks forward to season
Senior Xander Aguilar has played almost every position on the football field since his dad asked him if he wanted to play ball in first grade. He's moved around a lot, but he has found his home on the varsity defensive line. 
"We mix around on the defensive line, there are different skill sets for each week," Aguilar said. "We might need a faster person at an edge or a slower person to hold a gap, whatever we need for that week we do. I'm big, so I really feel like my place is at the defensive line. I love Coach Knight, I just like it a lot.
Junior Caden Henry has had a similar experience with football, but it was his mom that got him started. 
"I really didn't have a dad growing up so my mom put me in football so I could be a man, I guess," Henry said.
Outside of football, Henry plays rugby, a sport he has fallen in love with. In both football and rugby, Henry's size is misleading. At 6'3" he's both strong and quick. He's learned that playing hard and being aggressive benefit him greatly on the defensive line. 
"I'm a wing in rugby so I'm pretty fast," Henry said. "I work the best with the other defensive line people in my position area. They have the same goals I do.
Aguilar has been working on his technique in the past year. He loves the tackling portion of football and is looking forward to an aggressive season. 
"Last year I kinda let the game get to me, we're doing a lot better this year," Aguilar said. "We want it a lot more. I've definitely adapted that into my game."
The ultimate goal of the team is to go to the playoffs, but Aguilar is a bit more open-minded. 
"I'd love to go the playoffs, but at the end of the day, as long as the team gets better every single day, I'm happy," Aguilar said. "I've really bought into the fact that my job affects somebody else on the field, so I just bow my neck and keep playing.