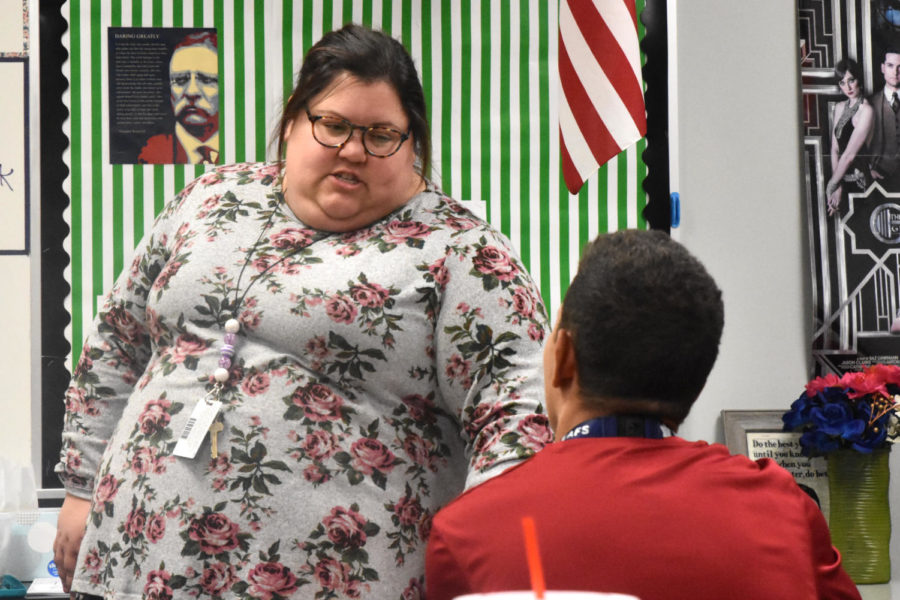 Laura Whitfield, English
I used to walk past the LGI area everyday and see English co-teacher Laura Whitfield helping students with their work. I never knew I would have her in my English three class junior year and how much of an impact she would make on me in school and life. Mrs. Whitfield is helping multiple students everyday with their English work and also making sure they have the modifications they need. She makes it fun for kids while doing their work by bringing a laugh or putting a smile on their face.
I'm always so excited to go to English because of Mrs. Whitfield. She has helped me so much with my school work. And she hasn't only impacted me in school. When I go into English, Mrs. Whitfield always walks in with a smile on her face and always tries to put a smile on others' faces. I always feel like I can go to her about stressful situations with school work and many other things, including college. Even though I am a junior and have another year to plan, it stresses me out to think about how fast that year will go by and what my plans are going to be. I told Mrs. Whitfield about how I had been feeling and she took the time to show me and reassure me I have nothing to worry about. She showed me many ways to start a plan on what I'm going to do and the many different things I could do that I didn't know about. She told me that even the fact that I'm asking her now shows her I have nothing to worry about because all a lot of kids wouldn't even ask. 
I enjoy having her in my class so much and I know many other students who do as well. She makes everyone feel welcome and that's why Mrs. Whitfield is such an amazing teacher, listener, helper and friend. Anyone who has the chance to have her in their class is extremely lucky because she truly does make an impact on your day.