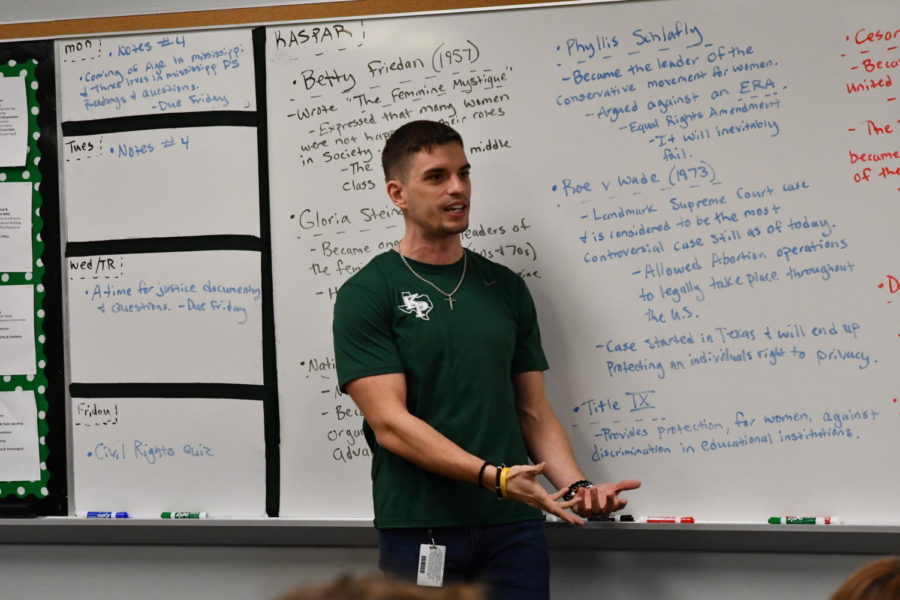 Kory Kaspar, teacher and coach
One of the most complained about subjects in school is history. Some people think it's dumb to learn about stuff that's already happened or they just don't care in general, but US History is one of my favorite classes.
Sometimes people also assume that when a coach is a teacher, they might just assign a bunch of busy work or maybe they just throw textbook reading in your face and not really teach anything. That's not the case with Kory Kaspar. He genuinely cares about you and your education and whether or not you're passing his class. 
Something notable about Kaspar's style of teaching is that he understands you have a life outside of academics and tries to accommodate for that. He gives you about four days to turn in assignments. He also gives you the quiz right before the test so you can study by using your notes and ask him questions from the quiz. He even gets that sometimes things happen and you can't turn assignments in. Communication is big with him, and as long as you tell him what's going on he will work something out with you. 
He always tries to make his class  a fun environment to be in by having a lot of energy to get through notes and even popping a joke every now and then. It's easy for me to see why he was the Kingwood Park Teacher of the Year. He's a great teacher with a fun classroom and I'm very grateful to be his student.