World Cup fever contagious
Like many Americans, Nov. 25 was very anticipated. The United States of America versus England. The showdown of the century, one of the most anticipated games of soccer in 2022. Initially I wasn't aware of the match up until I had scrolled through TikTok. My For You page was flooded with witty banter and jokes about the upcoming game.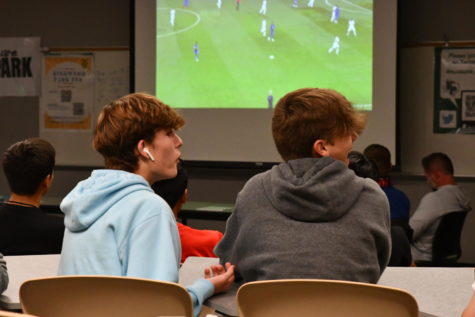 I don't think I have ever sat through an entire soccer game before the 2022 World Cup, and I say that with complete honesty. Although I played soccer for a few years when I was younger, I never liked watching it. I believed that there were better things to do, better things to watch. 
She sat right in front of me, her phone was set up against her water bottle and I just couldn't look away from the screen. I think at one point she saw me watching her phone, so she leaned to the side to let me get a better view. I was enthralled. It held all my attention during the 53 minutes of class. And from then on I was hooked. I asked her where I could watch more and she let me use her video streaming account. The very next day my phone was set up in the same manner. I leaned it against my water bottle and let the game play. 
I wasn't able to watch the USA vs England game but I had the score pulled up on my phone. Every 30 seconds I was refreshing the page hoping for a new score, but the game ended in a draw. It was pretty disappointing but the fact that even England couldn't score against us gave me a little bit of hope for the next U.S. game. Everyday I would find myself tuning in to whatever game was playing during my third and sixth periods, cheering for whoever had the coolest fans or the best-looking uniforms. I would constantly switch between games trying to figure out what game would be more entertaining to watch. That was until Nov. 27 when it was Iran vs USA. I was super excited for this game. The girl who sat in front of me brought snacks for the both of us to eat while the game played. We were on the edge of our seats in the first half. As we patiently waited for something to happen I saw one of my classmates put a hand over their mouth. When I glanced back at the screen Christian Pulisic had scored the first and only goal that game. I threw my hands up in silent celebration as a few other students also began to celebrate the goal. 
As sixth period began to end, halftime started and my friend and I walked to our next class. I watched all the ads leading up to the second half. When I walked into newspaper class, journalism adviser Megan Ortiz asked if I wanted to take pictures of the soccer team that day. As it turned out, the boys and girls soccer teams were in the lower LGI watching the game. I jumped at the opportunity. Not only would I be able to watch the game but I also get to capture the reactions of high school soccer players, who probably knew a lot more about soccer than I ever will. As I watched the rest of the game from the back of the LGI. I saw how passionate these people are about this sport. They were so expressive, constantly talking about different players and how well the team worked together. 
To be honest I was a little jealous too. It really made me miss playing soccer when I was a kid. While photographing the teams and watching the game, I absorbed a lot of information. I was so grateful that I not only had the opportunity to take photos of them but also be able to watch the game and learn about something I now cannot get enough of.