Boys swim leans on senior leaders
When the senior boys were just freshmen, they watched the swim team capture the program's most recent State Championship. Now, in their final year, they are trying to maintain the success for which the program has always been known.
"This is what I would call one of our transition years where we've lost a lot of seniors," said boys coach Greg McLain. "We're really transitioning between the end of the team that won the title in 2020 and the new group, you know, kind of the new generation of our swimmers."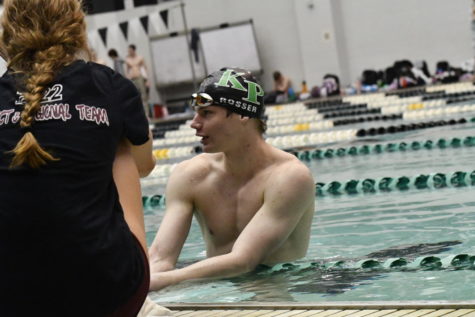 The last time the boys swim team won state was in 2020. That was when seniors Joe Stephenson and Chris Rosser were just freshmen. Neither Stephenson or Rosser competed at the 2020 State Championships but the memories they made there remain vivid in their minds.
"The energy and the atmosphere of the whole meet – I think it was something that was the most memorable, you know, because we all just knew at that point that we were going to come out on top," Rosser said.
His sophomore year, Rosser placed in five events at the State Championship meet, including two individual events. He placed in three events his junior year.
This year, Rosser is chasing the 50 free and 100 yard freestyle school records. He said he thinks he can get within less than a second margin of the record time.
"But I think it all just comes down to how I execute my race at State, and just to see how and where my training will take me at the end of the season," Rosser said.
Although Rosser has had an impactful four years on the swim team, he also had some major struggles.
"Sophomore year we did really good (at State)," he said. "We placed third, we got some medals, but last year it kind of took a downturn. I think I fell off the pace last year, that affected my whole season and my mentality. I was feeling burnout for a while after sophomore year, and I think it affected me going into junior year. But I feel like I've regained all that I've lost up until that point."
Along with Rosser, Stephenson hasn't always had it easy. Being the shortest one on his team came with an array of challenges, but he never backed down. At 5-foot-7, Stephenson said he tried to be the hardest worker on the team in order to accomplish his goals. By junior year, he finally reached the State Meet. He placed eighth in the 200 yard IM and eleventh in the 500 yard freestyle.
He has only gotten stronger. He set two pool records at the Senior Night meet in January. And at the district meet on Jan. 21, Stephenson took gold in all four of his events – two individual races and two relays.
"These four years have been a lot of ups and downs, and I would say they all came together pretty well," Stephenson said. "Freshman year, I wasn't one of the fastest on the team, I had to work to earn that spot. And then last year I made a state for the first time. This year I just hope to do the same thing and hopefully place really well and possibly bring back a medal."
As the season continues on and the seniors grow closer to graduation, junior Logen Black knows the void Rosser and Stephenson will leave on the team.
Black, who has been swimming competitively for eight years, has had a strong season. At the district meet, he earned a gold, silver and bronze in his three races. He hopes he can help lead next year's team so they can continue the program's rich tradition of success.
"I am worried just because Chris and Joe are a big part of the team," Black said. "But at the same time I think we can use our leadership skills and bring it together and hopefully have a great team like what we have now."
Black is not ready to move on yet though. He is confident that if the team can qualify enough swimmers while at the Region Meet on Feb. 3rd and 4th, the boys team can earn another banner. 
The boys swim team is ready to shake things up at state this year and coach McLain couldn't be more excited to see how this year pans out.
"I think they're just trying to reestablish themselves as a program that can compete at the higher levels at state," McLain said. "They're not feeling pressure to win the state championship, I think they're feeling pressure to perform their best, which every swimmer does."