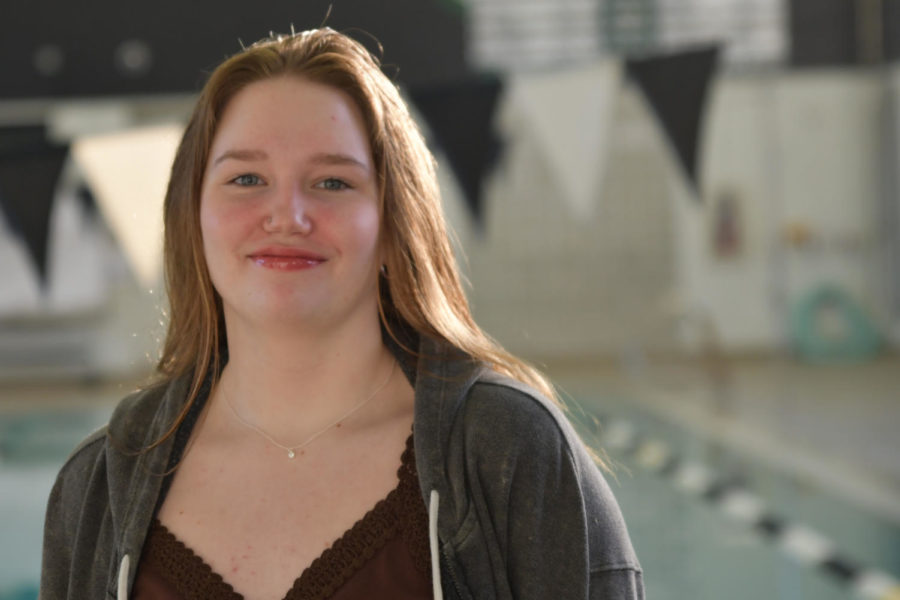 Morgen Dozier, junior
Going into regionals, junior Morgen Dozier was confident that she would be going to the State Championships with a lot of her teammates.
"This is the first time in my high school career that I was close to making State," Dozier said. "I was second originally overall in the 200 IM, and then I think I was fifth or sixth overall in the 100 fly. And I was just super excited. I was so proud of our team that we had made it this far."
At region, Dozier got first in the 200 medley relay with Renee Alcala, Cece Sullivan and Hannah Dove. She also took fourth in the 200 IM and sixth in the 100 fly at the Region Meet. She will swim in the 200 medley relay at state and is excited to cheer on the largest amount of teammates she has ever gone to state with. 
"Freshman year it was COVID year, and literally there were six girls that went and I just thought to myself, 'Is this how it's going to be the rest of the years that I'm here?'" Dozier said. "And then last year, my sophomore year, there were a few more girls, but it was still a small team. This year I think this is the most that we've had."
Dozier loves cheering on the sidelines for the other swimmers. She said she will never forget cheering her teammates on as they fought for the 200 medley relay win at regionals.
"I remember getting out of the pool and cheering for Cece Sullivan," Dozier said. "She was the last leg, I was the third leg. And so I just remember screaming and screaming at her 'Go, Cece go!' And when she touched the wall, she was about a head length ahead of the other girls. I remember, looking up at the clock and being like, we got this in the bag. Like we won."
To prepare for state, Dozier is taking it back. She's dropping a lot of yardage in practices and resting a lot.
"I think it's because I have such a strong bond with these girls that I never had before," Dozier said. "I think just knowing what they're capable of and knowing what they're going to do in the water, it just gives me so much confidence for this team and it makes me so proud of where we've come from and what we're doing."