Athletes work to overcome knee injuries
Athletes often play through a number of injuries, but damage to knees often sideline them. Anterior cruciate ligament (ACL) tears require a recovery of six to 12 months.
During the football season, junior Luke Allsen went in for a tackle and he tore his ACL.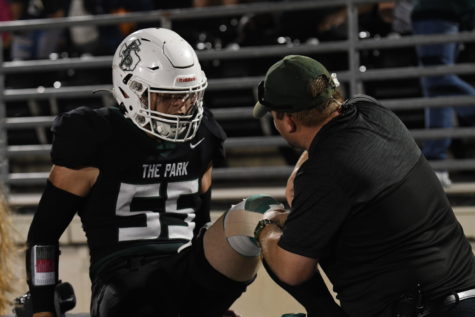 "I was running to tackle the quarterback, and then he changed directions and I tried to change with him but my ACL didn't," Allsen said.
In the past two years, the athletic trainers have worked with about 12 athletes who have torn their ACLs. Allsen still has almost nine months until he is cleared to play football, which will force him to miss most of his senior season. 
Senior Bailey Ricker tore her ACL during a club soccer game her sophomore year. She returned to soccer last year and is playing without a brace this season.
"Me and this girl were both going for the ball and then we bodied each other and destruction happened," Ricker said.
Ricker's recovery time was about six months.
"The first three months were the hardest part because you can't even walk and you have to reteach yourself how to," Ricker said. "It is the most humbling thing ever."
Assistant athletic trainer Jonathan Stoneman has had experience with ACL injuries and works with athletes during the recovery process.
"Because of how dynamic sports are, cutting across laterally is usually what causes that twist in the knee," Stoneman said.
When there is a knee injury, Stoneman tries to see if the athlete heard a pop and then does a test on the ACL.
"If your feet are planted and your whole body twists, that is just going to send a lot of force to the knee, especially the MCL and ACL," Stoneman said. "If jumpers aren't jumping with proper form, those knees start to cave in [and can cause an ACL tear.]"
Stoneman said they have dealt more with the medial collateral ligament (MCL) tears this year than ACL tears.
"With MCL, you can usually come back a lot quicker because MCLs are only responsible for medial force of stability," Stoneman said. "All the muscles have to be firing, working together in unison to help protect it."
Stoneman encourages people who are going through recovery to stay focused. Consistency on coming in and taking ownership of your injury is important when recovering.
Allsen said seeking the help of doctors and trainers is key.
"Don't try to tough it out, it will make it worse for the long run," Allsen said.