KPIPE finds success in first season back
The Kingwood Park Indoor Percussion Ensemble, also known as KPIPE, is back after three years. Head band director Bre Osbourn brought it back, wanting the band to do more than just marching season. They've competed in three competitions so far, taking first in two and second in the last one even after jumping up a difficulty level.
Their area competition is on April 1.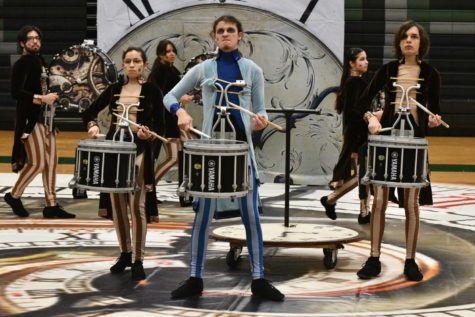 "It feels good (winning) because a lot of us have never done this before, because KPIPE stopped my freshman year," senior Victoria Ramos said. "So it feels like all the hard work we're putting in is actually paying off."
Their show for competitions is based off of "Alice in Wonderland" and the Mad Hatter. Percussion director Jeremy Dowell and Osbourn came up with the show for this year together.
"It's based around manipulation and time, basically having an antagonist bunny go around and wreak havoc on our little squad, the Alice squad," Dowell said. "And the whole time it's basically going through that and figuring out ways to defeat the bunny and the antagonist."
Although it's new to most of the percussionists of the band, they are taking on the challenge and work together well. They practice two times a week for about three hours outside of regular band practice. All their practices are paying off, and the whole team expects to make it to state.
"The band program in terms aside from like UIL has not been super successful in years past, so to jump into something and be immediately super good at it feels really nice," senior Codi Crabtree said.
The whole team is ready for the challenges ahead and as they prepare for the rest of the season. They couldn't be more ready for the rest of the year.
"I think what makes me the most proud of KPIPE is just all the kids work and the parents as well," Dowell said. "We have so many props and a lot of horse analogies because of the parents and the kids putting in the time and effort for that."