Memories prove to be highlight as senior plays final game
I woke up a couple of weeks ago ready for school and realized for the first time in four years, I didn't have to pack my athletic bag because I wasn't going to practice. With a loss the night before in the area round of the playoffs to Lucas Lovejoy, my soccer season was done. 
My entire athletic career at Kingwood Park was over. No more basketball. No more soccer. 
I started playing both basketball and soccer in second grade. Going into high school I wanted to try out for both teams and simply see what would happen. I cannot imagine what my last four years would have been like without running between the basketball court and the soccer fields. 
As I plan to earn a sports communication degree in college, it's the memories here that I will never forget. I know they made me into the person I am today. These are just a few of my favorite moments.
The overlapping seasons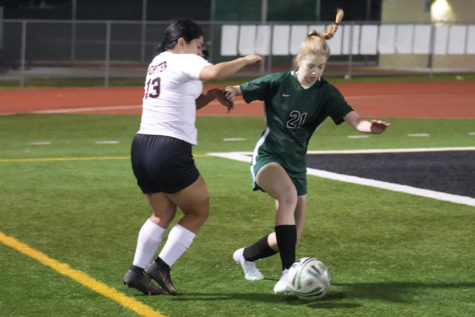 On the first day of school, former girls basketball coach Leighann Wolfe looked at me and said, "Oh, you're a soccer girl too." I nodded my head, and that was that. She got in contact with soccer coach Jess White, and I was a dual-sport athlete from day one. 
During the offseason, I split days going to basketball or soccer practices. In season, the days got more complicated – and sometimes exhausting. This year, during the Humble Classic Soccer Tournament, I went straight from basketball practice to play in our Thursday game. On Saturday, right after the soccer game I walked over to the gym, changed and headed to the court for basketball practice. 
Missing half of the soccer season was always hard, but that first day after basketball season was always loaded with mixed emotions. The soccer girls were happy to see me, but also sad because they knew I was there because we just lost in the playoffs. After being in a gym for so long, I loved standing in the heat all day. I could finally get some tan lines. 
The father-daughter challenge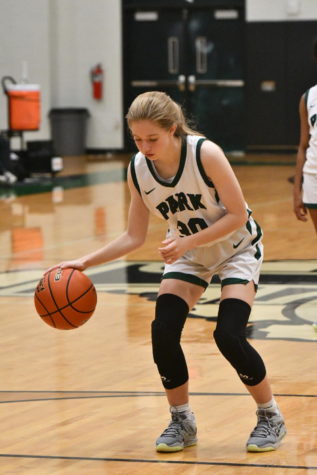 Sophomore year, I would not shoot the basketball to save my life. I was told by coaches multiple times that I had the green light from practically anywhere on the court. It seemed like too big a task actually to work up the confidence to take a shot. 
My dad came up with the genius idea to pay me to shoot. We agreed every shot was $1, and if it went in $2. Free throws were $.50. A 3-pointer was $3, and if it went in $5. To most, this would lead to kids shooting the ball every chance they get. Yet, I think the most I made in one night was $18. 
Over the course of the season, though, my dad would keep track of how much he owed me. At the end of the year, my payout was well over $100. While this didn't necessarily cure my tendency to not shoot, it did make me a little more comfortable. 
In a game against Lake Creek this year, I made a career-high six 3-pointers. Afterward, my Dad instantly said, "I would've gone broke tonight if I were still paying you." 
The bus rides
The number of times the girls basketball team yelled at coach Kyle Dray when he was driving the bus is simply too many to count. We do it with love and also fear for our lives. 
This year, he managed to get the bus stuck in mud after the Huffman game, resulting in a delay going home. He pulled into the wrong parking lot at Huntsville and got so mad at us that he kicked us off the bus right there. Curbs hide in fear when Dray gets behind the wheel. 
This yellow vehicle of transportation is about more than just the driver, though. The stories shared here are unmatched. Forced into close proximity, games are played for all to hear. Pictures are taken while snacks fall on the floor, and the air conditioning unit leaks water. 
This year especially, buses are the unsung heroes. The charter buses spoiled us. It eliminated the fear of our bus breaking down on the way to a second-round playoff game in soccer. Nothing will better prepare you for a game than having to get transported off the side of a shady back road to a Subway, just to get away from the bus (soccer playoffs 2022). 
This vehicle is there with you through the drive to the first scrimmage and the drive home after a playoff loss.
The senior nights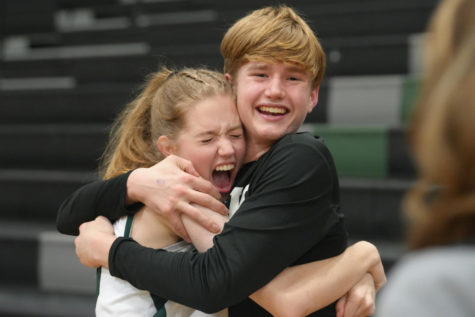 Freshman year, I remember all the hype around senior night. Every year from then on it only seemed to build. You know what none of the upperclassmen told me though, it is literally a blur.
Ask me what moments I remember from basketball senior night, and they're pretty much only of the ones I have pictures. I couldn't hear anything Dray was saying as he read my paper. Granted, I might have been too focused on my mom crying. Anything else special about that game, I don't remember. 
I at least have memories of my senior soccer night  game, because I didn't play. It was totally my fault though. I was suspended. I got my first red card the game before. It was definitely a highlight career soccer moment, but it did mean I had to sit out the next game. Watching your fellow seniors all start together on the field while I had to be on the bench was a different type of pain. 
I still don't remember anything about walking out though. Honestly looking back it all kind of feels like a fever dream. I'm sure at the moment it lived up to the hype, but it all seems foggy now. 
The end…
Seniors are told to cherish every moment because they will fly by. With all other important senior year moments approaching it seems the end of high school is finally coming around. 
We spent all year talking about how this was our last home game, last practice, last break out. The pain and tears came. Yet, no one prepares you for the firsts – the first time your name is no longer on the roster, the first time you don't have to go through another offseason, and the first time you turn in your jersey knowing you won't get it back next year.