Volleyball plows through New Caney to continue undefeated streak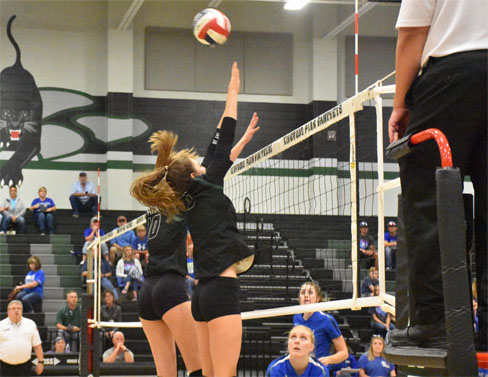 The Kingwood Park varsity volleyball team annihilated New Caney Sept. 29. Senior Hannah Overmire opened the game by scoring the first three points of the match which helped to secure KPark's 24-11 victory.
Overmire's dad, Wayde Overmire, was very happy with the whole team.
"The team is really jelled" he said, proud of how well the team worked together.
It was clear in the game that the girls not only works well as a team but also as friends. They called out with precision who had the ball and where it was and showed their support for each other. They hugged, high fived, and chest bumped.
Through the game, the cheerleaders, who cheered every time KPark scored, hardly had a moment to rest.
"[The team] knows how to pull together as a whole"said Selena Baldwin, a cheerleader who has gone to every volleyball game since freshman year.
Along with the cheerleaders, parents cheered as loud as they could. One parent specifically could be heard from every corner of the gym. Andrea Soto's mom Cornelia Soto has gone to as many games as she can and loves to cheer her daughter and the team on. Two things she said about the team is that they are coordinated and communicate and before she could carry on with her thought her daughter scored and she began screaming and clapping.
In the second set New Caney was in the lead. Team members on the side of the court scream encouragements to their teammates as the Panthers fought hard. One thing that was evident is that all the girls really care about each other and do the best they can to help one another.
The score near the end of the second was ten to eight and time in the set was getting short. Katey Searcy turned the tide after  ball flew over all the girls heads, on it way out of bound when she made the save. With the help of the other girls they scored, and by the end of the set they had won 25 vs 13.
In the third set sophomore Libby Overmire made another crucial play by dove to the ground to save a ball, preventing New Caney from making a point. All the girls on the team but not on the court at that moment cheered – the gym was almost never silent. Half way through the 3rd set it was clear who is going to win, with the lady panthers having 19 points and New Caney only seven.
"We're really excited about this season" senior Andrea Soto said.
The team hopes to continue their undefeated streak at the upcoming match against Porter on Oct. 6.