Sound the trumpets, Kingwood Park band students are San Antonio bound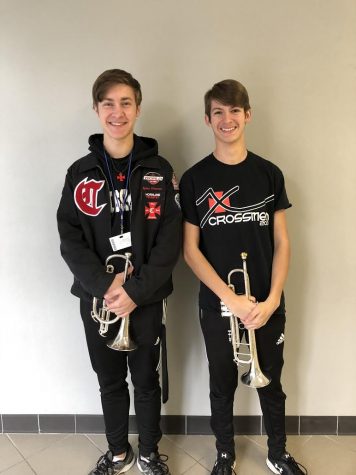 Michael Rosie and Dylan Wootton, trumpet players of the Kingwood Park Band will perform with the Texas All-State Bands in San Antonio, Saturday, February 17, 2018 as part of the 2018 Texas Music Educators Association Clinic/Convention.
They were chosen for this prestigious honor through a competitive process held this year across the state at District, Region, and Area levels. High school students selected to perform in the All-State concerts have competed through auditions to qualify at the state level.
All-State is the highest honor a Texas music student can receive. 1,780 students are selected through a process that begins with over 70,000 students from around the state vying for this honor to perform in one of 3 concert bands. The Texas Music Educators Association sponsors the Texas All-State competition. This competitive process begins throughout the state in auditions hosted by TMEA Region 33. Michael and Dylan performed selected music for a panel of judges that ranked each player. From this ranking, they advanced from their Region to compete against musicians from other areas in eight TMEA Area competitions.
The highest-ranking musicians judged at the TMEA Area competitions qualifed to perform in a TMEA All-State music group. Only the top 2.5% of musicians who initially audition become All-State musicians.
This is the first year in Kingwood Park history that two students have made State in one year.