Working from Home
A 2013 alum renovated her entire home to keep Material Wonders up and running.
Where Shelby Laird used to have a living room, she now has embroidery and heat press machinery. The screen printing machine displaced her car when it moved into the garage. Equipment lines the walls and fills the counters throughout the two rooms.
Laird and her mother LindaSue Laird moved their company Material Wonders into retail space five years ago when they bought the business, but due to the coronavirus pandemic they have relocated it into Shelby's home.
"I'm a single person and I live in a pretty big house," said Shelby, a 2013 graduate of Kingwood Park. "I didn't want to have Material Wonders as my roommate, but it happened."
"
It was scary. We didn't know what we were going to do. For about two months we really had no work. I had to lay off my employees so they could collect unemployment and make some money elsewhere.
— Shelby Laird, co-owner of Material Wonders
After schools went completely virtual in March, Material Wonders had to do a lot of adapting since schools make up 80% of their revenue.
Shelby did not take a paycheck for two months and had to live off of her savings to try to keep some of her employees.
"It was scary," Shelby said. "We didn't know what we were going to do. For about two months we really had no work. I had to lay off my employees so they could collect unemployment and make some money elsewhere."
She and her mom tried to just make ends meet by closing down their storefront while hoping some sort of normalcy would return in time to keep the business afloat.  It was a pleasant surprise when they found out students would be going back to in-person classes and play sports in August. Material Wonders works with the soccer, cross country, track and girls basketball teams.
While Shelby wasn't involved in much in high school, now she works with many of the coaches and teachers.
"I enjoy working with all of the coaches. They know me on a first-name basis. Every time they come in it's a great working relationship," Shelby said.
Shelby met the previous owner of Material Wonders, Connie Michelle, when she was only 3 years old. She worked part time cleaning the embroidery and trimming projects at Material Wonders before graduating high school.
Shelby moved to Kerrville after high school to go to Schreiner University. She soon decided that she wanted to return home.
"Shelby likes walks at East End (Park. She likes going to Jesse Jones, so she's also a country girl at heart," LindaSue said. "She really enjoys that outside and that small town feel, so Kingwood has been a really good fit."
After moving back home, Shelby got her associates degree from Lone Star College. She and her mom bought Material Wonders.
Shelby knew the machines, programs and the customers already. That is one reason Michelle was thrilled when the Lairds showed interest in taking over the business she had grown for the previous 12 years.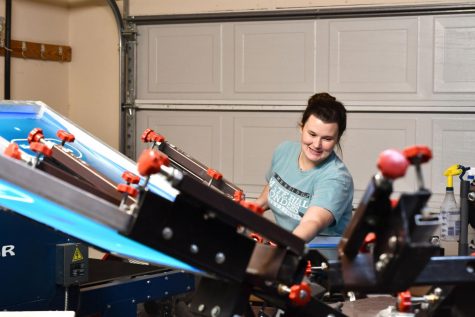 "While I know that embroidery work may seem like a simple sewing machine, it's quite intricate and you really have to know what you're doing," Michelle said. "It's not something that you would just want to hand over to somebody who hadn't been exposed to it or had experience in it before."
When they became owners they split jobs up based on their strengths. Shelby is the CEO, and LindaSue is the CFO.
"I think it's cliche to say that my child is my best friend, but she really is," LindaSue said.
The first year was difficult for LindaSue because forgetting the regular mother-daughter roles was hard.
For a while customers would come in and assume that Shelby worked for LindaSue. Now that assumption is rare. Watching Shelby mature has been what LindaSue is most proud of. Not only does she look older, but she holds herself differently.
They have adapted quickly to their new office space in Shelby's home. They are filling heat press, screen print and embroidery orders for schools, groups and events. Their recent restructuring means they are no longer doing individual orders for customers.
The Lairds enjoy the flexibility of not having a retail space with set hours. Now Shelby and LindaSue are available via phone and email anytime, anywhere.
"I've been wowed by her because it's really great to see somebody pick this up from something you've lived off of and created and really expanded on it even further," Michelle said. "Especially for a young person coming in she's taken it really seriously, she's gravitated to it and I've been very impressed and happy to see all the results that have come from that."