Alumni train for rigorous charity bike ride to Alaska
The Texas 4000 is the longest annual charity bike ride in the world.
Learning to ride one's bike is a rite of passage many will never forget. What's more, the memories of riding it will often stick with a person, whether it be the first time they get up after a fall or they ride 4000 miles from Austin, Texas, to Anchorage, Alaska. 
The latter is exactly what three 2017 Kingwood Park alumni will be doing this summer. Nicole Kell, Lindsey Ferris and Ryan Logan are part of a program called the Texas 4000, a cancer-fighting and awareness group run by University of Texas Austin students. After a series of applications, essays, interviews, and much dedication, the three were chosen for this 18-month program.
"
It takes up a lot of time, but I wouldn't trade it for anything. What could possibly be more powerful than biking to Alaska to join the fight against cancer?"
— Ryan Logan, a 2017 Kingwood Park graduate
"It's a pretty competitive, once in a lifetime type thing," Kell said. "It means a lot that I'm getting to make a difference and see it at such a young age. No matter how much my legs burn on the bike, people with cancer have it so much worse."
Kell's life has been touched by cancer in many ways, but predominately by her younger brother, Michael's childhood friend, Landon Ahrendt. 
"In the Texas 4000, the main thing is fighting against cancer," Kell said. "Landon passed at such a young age from cancer and so did my grandpa. Cancer has touched my life in multiple ways, giving me the opportunity to make a difference as a UT college student."
Kell keeps a photo of her grandfather on her bike and wears a bracelet for Landon on her wrist. 
The ride is expected to take 70 days. The cyclists leave in early June and finish in mid-August. In order to prepare, the athletes are expected to log a minimum of 2,000 training miles and complete at least 50 hours of community service.
Of the three, only Logan had experience of cycling at such a high level. In his freshman year of college at the University of Texas at Austin, he decided to join the triathlon team after having swam competitively in high school. He recently started getting more serious, increasing his mileage to help prepare for the Texas 4000. Logan's life hasn't been affected by a loved one with cancer, instead, he was able to see what it was like from a more professional view. 
"I didn't have a super close connection to cancer, my cause felt abstract until I got an internship at the hospital," Logan said. "It allowed me to see patients and see the science and humanities of treating people with cancer. That's when the Texas 4000 changed from an opportunity to a community that I am a part of now, that I can raise money for."
The three cyclists, along with the rest of this year's riders, have made many sacrifices for this opportunity. Gone are weekends of sleeping in, some are having to stick to a very strict diet, and they are giving up their summers for the cause.
"It's a big commitment, you have to give up a summer when other people are looking for jobs, and it's a time commitment, a year and a half long program," Logan said. "Each rider has to raise $4,500. We have to complete 50 community service hours and train. It takes up a lot of time, but I wouldn't trade it for anything. What could possibly be more powerful than biking to Alaska to join the fight against cancer?"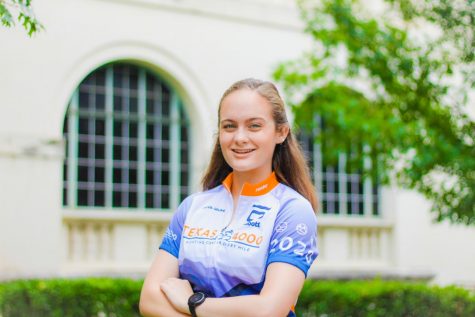 Along with everything they must complete for the program, Ferris has gone a step further and designed a t-shirt that she has been trying to advertise. She's going through a Kingwood-based company, and using the funds to help with the Texas 4000. All three alumni have found support in Kingwood, even from former teachers. 
"I'd really like to add that taking on this endeavor, it has been really challenging, but I'm thankful for the community," Ferris said. "So many of my former teachers have donated to me, throwing their support behind me, so I'd really like to thank Kingwood Park for supporting me in this and getting me to Alaska."
The Texas 4000, like many things, has been affected by COVID-19, and while the alumni expect the ride to go on, there is a small chance it won't. With such things as looking at Canadian border closures, national park camping sites being taken up, and other things affected by COVID.
"The ride has a lot of precedent, it's gone off flawlessly for a really long time, but it gets complicated because of COVID," Logan said. "They're just planning around it, we all hope to be vaccinated. At the risk of sounding cliche, we're just planning around it and hoping this ride could happen."
During the actual ride, the cyclists will be subjected to many hardships, including fatigue, the elements, or biking up a mountain on one of the four routes. 
"I see my biggest challenge being to get back on the bike, after riding for 30 days, you wake up at 6 a.m., and you'll just have to get back on, it will be worth it," Ferris said. "It's for a purpose, it's not about me."
Ferris' bike was donated from a woman in the community, who once had cancer. She emails her every so often to keep her up to speed with her progress. 
"This ride is a culmination of my college years, it's like a cherry on top," Ferris said. "It has this wider meaning of I raised $4,500, I biked over 4,000 miles. It's character-building because I met so many people and helped so many people.