Kirsch family seeks peace after another tragic loss
Over the last seven years, ever since the worst day of her granddaughters' lives, DeeDee Kirsch helped pick up the pieces of their broken hearts. She took the girls to work when they were sick and snuck them out to Menchie's after school. She took them to doctor's appointments and back-to-school shopping.
She was there for all the special moments their mom could not witness.
Now, DeeDee is not there either.
On Jan. 20, she died of cancer. For sophomore Kim Kirsch and juniors Katherine and Nicole Kirsch, it was like losing their mom all over again.
*****
Gene Kirsch sat across from a general surgeon and an OB/Gyn at the Kingwood Hospital ER completely lost as they talked to him. The world as he knew it was crashing down around him. While performing emergency surgery on his wife, Kristine, they found tumors. She had cancer.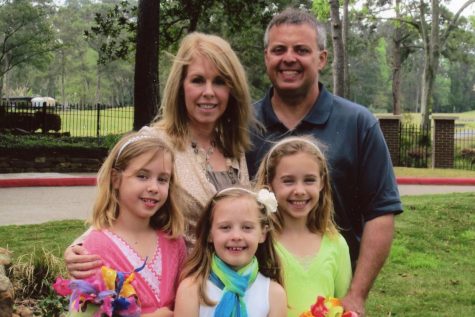 "Oh my God," he panicked, "I'm not equipped for this." Gene's mind flashed to everything he worried he lacked: the skills, patience and relationship with God. He wanted to be there for their daughters, but he wasn't sure how he would do that. 
It was April 2013, and Katherine and Nicole were in third grade, while their little sister Kim was in second. Their aunt had passed away from cancer in 2008, so they knew it could be deadly. When their mom was diagnosed, their first question was if she was going to die too.
"We don't know if Mommy is going to die," Kristine sat them down and told them. "But between now and the time we do know, we're going to pray for a miracle."
Kristine worked in pharmaceutical sales, ran half marathons and loved to ski. The same drive and focus she put toward her job she put into raising her daughters. Although most of Kim's memories with her are blurry, she finds comfort in the fact that the smiles she sees in her older sisters replicate that of their mom. Gene sees Kristine's drive, humor and compassion in his daughters daily. 
"It's little bitty things that there's no way they could remember them, but it's in them," Gene said. "It comes out in their personalities or in their reactions to things or the way they laugh or the way they tease or the way they joke."
Kristine was diagnosed with advanced stage 4 metastatic Cholangiocarcinoma, also known as bile duct cancer. The bile ducts are inside the liver and connect it to the gallbladder and the small intestine. Similar to her sister-in-law's cancer, the cancer was caused by a non-hereditary genetic mutation.
For the next several weeks, the girls didn't see their mom. She stayed at MD Anderson, while they stayed at their grandma DeeDee's house. 
"I remember not being (with her)," Katherine said. "And I remember that being the hardest part."
She also remembers her 10th birthday on May 2, less than a month after her mom's diagnosis. She and her sisters were getting their hair done and putting on dresses to visit their mom, while Kristine had woken with pain coming and going in cycles. Gene said Kristine really had to psych herself up for the visit because she was in so much pain. 
"I don't think I can do this, I don't think I can do this," Kristine told Gene that morning, but the girls were already on their way.
Realizing it was too late to cancel, Kristine struggled to get into her wheelchair and do her hair so that the girls didn't see how much pain she was in. Nicole knew she was in pain and felt bad that she didn't feel well while they were visiting, but she didn't let her mom see that she knew.
On the other hand, Katherine's most vivid memory of her mom being sick was going to the top floor of the hospital that day and looking out over the city. The moment was special for her.
"What a lot of people don't realize is when you're that young and you have a parent that's sick it's hard to remember them because you don't want to remember them sick," Katherine said. "You don't want to remember them when they weren't themselves."
*****
For the first three months after Kristine's diagnosis, the girls primarily lived with their paternal grandparents. By the time the girls were staying at their house again, Kristine had been out of the hospital for a couple of months.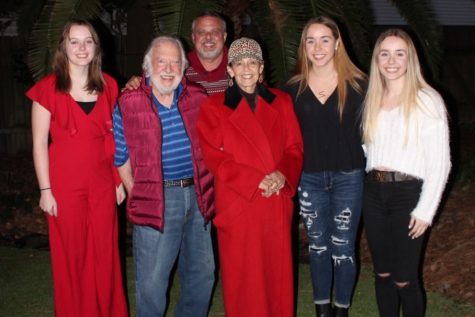 Gene would often be awake for 36 hours at a time. By the time he finished changing out IV bags and medication for Kristine, it was time to wake the girls up for school again. He would go to work until they were out of school. Then he would spend as much time with them as possible.
"They needed their dad," Gene said. "Just trying to do that and trying to create some type of normalcy was hard. It was very exhausting."
Gene knew he would need to rely on God to guide him through the exhaustion. But when Kristine was diagnosed with cancer Gene was what he would describe as "lukewarm" in his faith. He didn't have the relationship with God that made him comfortable enough to lean on Him. He felt hypocritical.
 As his schedule began to fill and he slept less and less, he found himself waking up each morning asking God how he would get through the day. 
"God, how?" Gene would say. "I'm tired. I need to put my head down, and I don't see a time when I can go to sleep. How am I going to do this?'"
He found his answer when Jennifer Chandler, a close friend to both Gene and Kristine, insisted he take a short retreat to have some time with God. 
"I can't do it," Gene told her at first. "I don't have anybody to take care of Krissy, and what about the girls?"
"I don't care," Chandler replied. "I can't take no for an answer. You have to be able to get away."
And he did. That weekend, things began to change. He could finally understand what God wanted for him. He heard God tell him to stop asking "how" he would do this, but to just know that he would be able to and he would get it done. 
"I was able to get through (this time) truly on prayer and just allowing God to give me the strength I needed when I needed it," Gene said.
*****
As the family continued to pray for a miracle, Kristine's condition deteriorated. Gene recalls her final days – 10 months after the initial diagnosis – as somewhat peaceful. She slept a lot, and the hospice nurses at their home made sure she was comfortable. The girls were with DeeDee on Jan. 3, 2014, when Kristine died. She was in her own home surrounded by Gene and her three siblings. At the time of her passing, she was what Gene described as "perpetually 39." Kristine said that she never felt anything above 39 and Gene honored her desire to be forever young by not including her birth year in her obituary.
"
You can always feel something missing. People make up such a big space in your life that when they're gone you can always tell because it's just missing."
— Nicole Kirsch
On Jan. 6, Katherine, Nicole and Kim dressed in white dresses with butterflies for their mom's funeral. Gene and Kristine had decided that the girls wouldn't wear black. Because butterflies are the symbol of those who have passed in their family, they wore them on their dresses. 
"Yes it was sad, but it wasn't the worst because she wasn't suffering anymore," Katherine said. "She wasn't in pain and we were happy that she was finally in peace."
After the funeral, it was quiet at their house. 
"You can always feel something missing," Nicole said. "People make up such a big space in your life that when they're gone you can always tell because it's just missing."
The relationship they had with their dad began to shift immediately. He wanted to be more active in their lives. The girls started to call him "Moddy," a mix between a mommy and a daddy. 
When he sat Katherine down and straightened her hair for the first time, she knew he was willing to put in the effort to get the girls to a new normal. Gene was the traditional dad they needed him to be, but he also learned how to have what he describes as the "special mom thing."
"It's exactly the opposite of whatever my instincts are," Gene said. "If my instinct is to do something, then the 'mom part' is to do exactly the opposite of my instinct."
Over time, he became each of the girls' best friend. They can tell him anything and he loves being involved in their lives. Small things, like when he took Katherine to the store just for a Dr Pepper she was craving, make it clear to them just how excited he is to be in their lives.
"I never thought that I'd be a daddy's girl," Katherine said. "But we just have all of our little inside jokes and everything that we do together."
*****
While her sisters spend most weekends out with friends, Kim spends time with her dad listening to music or just hanging out. She goes to him for advice, to receive comfort when all she needs is a good listening ear.
"We don't do a lot," Kim said. "But to me, the physical amount of time I spend with him is enough."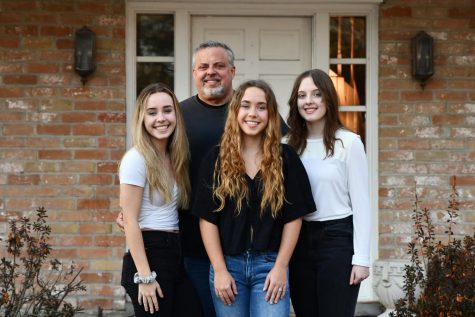 Kim started playing piano before she even fully understood her mom's death. Since then she's grown in both her musical talents and her understanding of her mom's passing. Kristine loved music, specifically Coldplay, The Killers, Elton John and Dashboard Confessional. Kim was only 6 or 7 when she went through her mom's CDs and listened to music with her. Since then, she's taken an interest in everything musical. She plays six instruments now and enjoys learning songs her mom would listen to. 
"When I hear a song on the radio that she would listen to, I think about her," Kim said. "My dad always tells me that my mom would be so proud of me for taking up her interests as my own passion."
Gene tells the girls often what their mom would think of them if she was still alive. They talk about her in the present. He says things like "Mom is proud of you" rather than "Mom would have been proud of you." From the very early days after her passing he made sure the girls understood that because of their faith and belief in heaven that their mom isn't "gone" just because she isn't here on earth with them.
Still, there is a void without their mom.
"I definitely feel a lot more lonely than before," Nicole said. "I mean there's such a big gap in your life. A mom for three girls is such a big thing because they're supposed to help you with everything. They're supposed to take you to homecoming and to special dinners and they're supposed to take you to cheer practice and all of this stuff, but when you don't have that and like every single other girl has that you just feel so left out."
Nicole wonders what it would be like to have her mom watch her soccer games. Kristine played soccer in high school, and Nicole would love to know if they played similarly in any way. When Katherine thinks of what life would be like if her mom was still alive she believes that it would be much stricter. She thinks they would be living in another house and her class rank would be better. However, she can't imagine what her life would be like without the people she's met through her mom's passing.
"I can't imagine my life being any different," Katherine said. "I wouldn't have half the relationships that I have without her. I wouldn't be this close to my dad, I wouldn't be this close to my siblings. I look at the silver lining through it: you lose your best friend, yes, but you meet some amazing people through tragedy and loss."
*****
One person who they grew much closer to after their mom got sick was DeeDee. 
The girls wanted DeeDee at their birthdays, prom and graduation; especially since their mom couldn't attend. 
"Go down the list of all the things that you want to do with your mom and all the plans that you have with your mom," Gene said. "They transferred all those to my mom."
Then, in 2017 DeeDee was diagnosed with stage four metastatic endometrial cancer. She was given maybe six to nine months to live, and her grandchildren realized that they never knew how much longer they had with her. 
"In a sense, we've been preparing for this for four years," Gene said. "When I say preparing I mean like gut wrenching, rip-your-heart-out kind of preparation because the fact that my mom was dying meant that the dreams that they had for their mom that they transferred to my mom wouldn't happen again, so it was like they lost their mom again."
When DeeDee got an infection in January, her family knew it would probably be enough to hurt her immunity to where the cancer would take over. That's when Gene began to really prepare the girls for her death.
DeeDee's death caused the girls to relive a lot of their mom's loss. While the girls don't remember much from before their mom died, they're older now and can remember the time they spent daily with their grandma. 
Katherine remembers how she never raised her voice at her grandkids, but how funny it was to hear her raise it at their grandpa Mig. Now, she misses having someone else who knew her like the back of her hand, and who she could tell anything. 
That's when Katherine went to her dad with the question of why all of this was happening to them.
"It's not your fault," Gene told his daughters. "There was nothing they could have done to prevent it."
Katherine repeated her dad's words: "It's just a matter of finding peace within yourself that you're OK."
That's what they've been doing for the past seven years since their mom passed away, and what they'll continue to do: attempt to find peace.