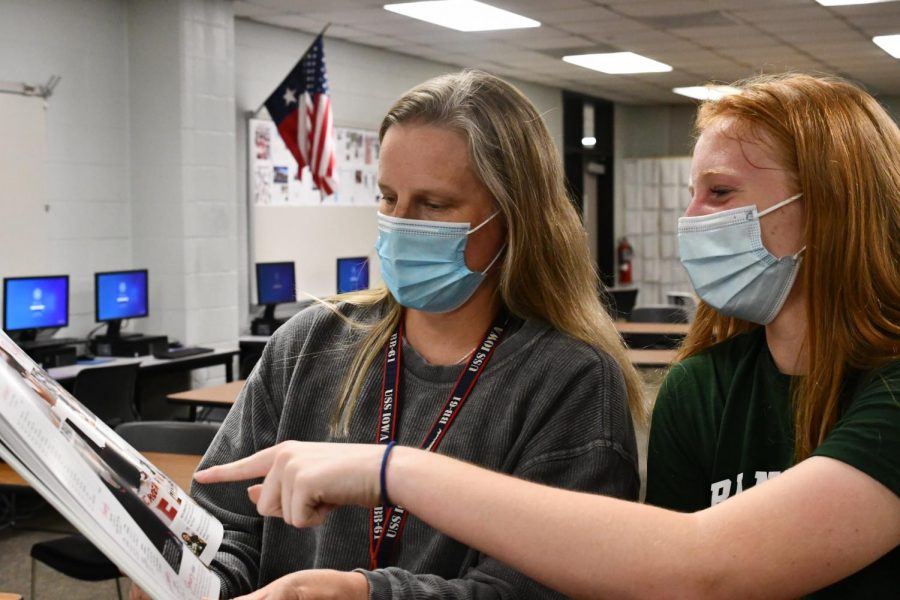 Megan Ortiz, journalism
As a virtual student, Megan Ortiz, my photojournalism teacher, has had a very positive impact on my school year. Throughout my first year, this class and all of its projects and activities allowed me to stay connected and learn about the school from a distance. Ortiz (I normally would say Mrs. Ortiz, but I have been told that the journalistic standard is to use the last name only) has kept me involved with the class by sharing pictures and writings from other students, interviewing coaches and teachers, and most importantly learning that the quality of our democracy depends on the quality of our journalism. The information about the importance of  journalism has kept me interested in current affairs and following our political system.   
I received my first letter ever from a teacher (Mrs. Ortiz) through the US Mail. This might seem like a small thing, but it did make me feel special and my parents were impressed that a teacher would take the time to do that. She simply encouraged me to stay involved in the class. This encouragement has continued throughout the year. For example, in the grading section for the class, the teachers sometimes write little comments next to the grade given. Again, this is the first time one of the comments was GREAT JOB!  Normally lower case was used, but upper case with an exclamation mark does make a student try harder.
Getting to know more about the school I attend was helped by some of my assignments like having the opportunity to interview Coach Cook and teacher Gina Babcock. This gave me some insight on how many teachers are dedicated to helping the students learn and grow. Other photographic assignments allowed me to explore the world through pictures. It was especially fun exploring the outdoors and finding the best way to create a good picture. Because of this journalism class and Mrs. Ortiz, many of the things I've learned will stay with me for the rest of my life!  
Most importantly, the things that I have learned have given me a greater appreciation of how important journalism is to our democracy. Freedom of the Press and Freedom of Speech are more important now than they ever have been. I was so proud of the journalists I learned about and followed this past year because they were protecting our democracy. "We survived a frontal assault on the peaceful transition of power by the loser of the election to retain it over the winner. We still feel the hot breath of that on the back of our necks," said Chris Hayes, MSNBC. "It's still there, it hasn't been defeated in any way." 
By Jacob Black
***
When thinking about yearbooks and newspapers you often think about students hard at work on their laptops and computers writing stories. Although we are hard at work always trying to find a good story, without support and guidance we would never know where to start. Mrs. Megan Ortiz is our yearbook/newspaper teacher and she fulfills and exceeds her duties as our teacher every day, whether it's helping us write our stories or finish our yearbook spreads. Although any teacher can do that to help us out, Mrs. Ortiz created a safe haven for us to express ourselves in any way, shape or form.
Besides helping us achieve our journalistic goals, she has always cared about our outside lives and what we have going on. During and outside of class hours she has always been like a second mother to all of the yearbook and journalism staff. She would make us feel happy on our darkest days and would make us happier even on our brightest. She is someone who you could always count on and talk to whenever you were feeling down and upset. Her words were always kind and she would always reassure us that the future would be bright.
She always pushed us to do our very best and to always strive to improve our writing to win awards. When going to San Antonio for conventions, she would tell us to learn as much as possible about anything and everything we wanted. She never put limitations on our learning, because at the end of the day the education was for us and she wanted us to get as much of it and watch us grow. Although we were out on a learning trip she always made sure that we were having fun as well. She is a teacher that will be missed when we graduate and one who will impact the rest of our lives.
By Richard Rivera