Ehrhardt to retire after four decades of teaching
For the past nine years, baseball coach Bruce Cox has gotten used to seeing Joe Ehrhardt at baseball games. This won't change anytime soon, but Cox and the rest of Kingwood Park will have to adjust to not having Ehrhardt in the halls. 
"He always supports our kids and coaches," Cox said. "He is at almost every single game we play at KP and sometimes will even travel to watch our boys compete.  I think we will still see him at games, but not seeing him in the hallways weekly will have a huge impact on me.  I am going to miss the interaction with him."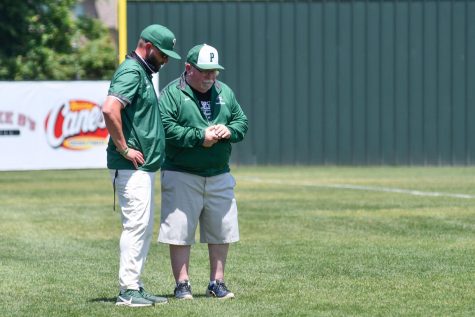 Ehrhardt is retiring after teaching 42 years—12 of them at Kingwood Park. His passion for all things science—astronomy, biology, chemistry, earth science, and physics—has led to him being a favorite amongst his students and fellow staff members,
"The culture at Kingwood Park High School has been second to none," Ehrhardt said. "Once I retire, I intend to follow NASA closely and use the local observatory. I will also continue to be a part of the school community next year."
Along with science, Ehrhardt has a deep love for baseball. He played in high school and American Legion. He was a head baseball coach for 15 years and a "lifetime baseball fan." Because of his association with the baseball team and their love for him, Ehrhardt threw out the first pitch against Dayton on April 24.
"I was grateful for the opportunity to throw out the first pitch," Ehrhardt said. "A special thank you to coach Cox. My friendship with him and all the coaching staff has only improved my love of the game."
Ehrhardt and the baseball team have a history of supporting each other. In 2016,  Ehrhardt had to undergo brain surgery. The team gathered their members and did yard work at Ehrhardt's house while he was recovering.
"That was a great experience for our boys," Cox said. "It wasn't just about doing the work for him although our kids did a great job.  It was about being around him and letting him see the boys while he had to be away from school.  It made his day and our boys learned a lot about taking care of the people that take care of you.  It was a special day that I will remember forever."
Cox has a lot of respect for Ehrhardt both as a co-worker and as a friend. As a coach, having someone come out to almost every single game is huge. Ehrhardt provides moral support for both coaches and players.
"Joe is a great guy," Cox said. "A great baseball guy too. He knows the game inside and out. Joe always had positive things to say to me after wins and losses. He never let me get too up or down after games. He kept me steady with his wise words and I always felt better after talking to him. He's a special man."
Ehrhardt's passions were evident daily. His biggest mission was to make sure students know that he cared and that they should always do their best.
"I have several favorite memories of teaching, but my biggest advice to others is that students don't care until they know that their teacher cares," Ehrhardt said. "To my students – always do your best, no matter what."