Finding passion in giving back
For five years, freshman Kaitlyn Sitton has collected donations for Texas Children's Cancer Center.
I was sitting in the audience of my recital, exhausted after a long day of dancing, when I heard a story about a little boy who had gotten cancer. This particular recital was an event by the non-profit, The L3 Foundation, run by Scott Ahrendt. Ahrendt always says the same thing at the end of every speech that he gives, he asks us to "Do Something."
I walked into my mom's car with tears in my eyes, asking if there was any way we could help do something, and that's when it all started.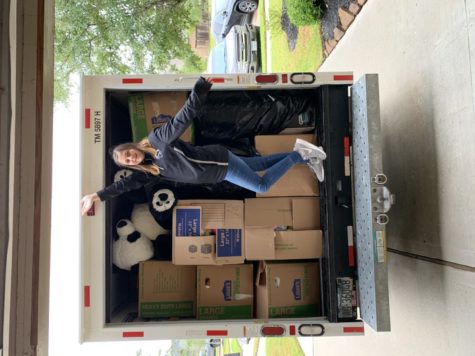 Five years later, my service project Kids for a Kure has donated more than 7,850 items to Texas Children's Cancer Center. While the number is more than I ever expected when the idea first began in third grade, there is no way to quantify what I have gained in this time.
In 4th grade, we settled on collecting hats and donating them to Texas Children's Cancer Center. We called the project Hats off for a Cure. I spoke at a school board meeting, Bizcom, and did everything I could to get the word out. I ended up collecting between 2,000-3,000 hats that year.
When 5th grade rolled around, my mom had asked me if I wanted to do it again. She thought it was just a one time thing. She thought wrong. We decided to collect socks this time because it was one of the options we discussed the year before. We called it Sock out Cancer. That year we received 1,500 pairs of socks.
With all the donations we received, getting all the boxes inside with hospital traffic was a lot of work. But it was all worth it, knowing that a group of kids just received thousands of donations. We asked what else they needed or wanted so we could collect it next. They said video games and so that's what we did.
My 6th grade project was called Out Play Cancer. That was the year we started getting other schools involved and promoted it a lot on social media. We had a lot of success with 479 DVDs, 232 video games, a PS4, two TVs and so many more things.
In 7th grade we decided to collect stuffed animals: Stuff out Cancer. That's when the project got really big. We posted on social media more, almost half the district got involved.
One time when I was going to pick up donations from a school, a girl thought I was famous because she saw my video on her announcements at school. It was the sweetest thing. By the end of endless counting we received 2,600 stuffed animals. There were so many stuffed animals we had to rent a U-Haul to deliver all the boxes to the hospital.
Because of COVID, my service project was paused for a year. It was sad that I couldn't do anything to help that year.
This year, I came up with a way to be able to donate and be safe. I created an Amazon wishlist for people to send items directly to the hospital. The link to purchase these items was posted in my social media bios on Instagram, Facebook and Twitter (@kidsforakure).
Next year I will turn 16, which means I will hopefully be able to see the kids and give them donations directly. It was my goal from day one – 5 years ago – and still is now, to be able to see the smiling faces of the kids at Texas Children's.