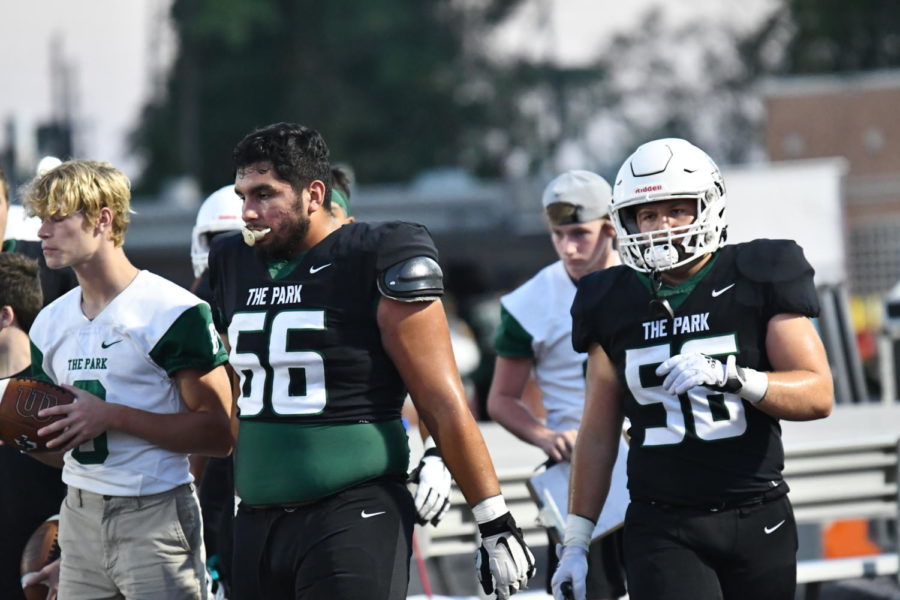 Young o-line key to offense
When Erick Zapata and Cameron Maxey walk into a room, you just know they play football. The juniors are both starters on this year's team, leading one of the biggest offensive lines the school has ever had.  Zapata is almost 6'3" and weighs in at 295 pounds, making Maxey look small at 5'11" and 225 pounds. The hope is that the offensive line will provide the team with a strong enough backbone to take them to the playoffs after a lackluster season last year. 
"This year's offensive line will be one of the strongest KPark has had," Zapata said. "Our left guard Cameron Maxey, he's really good. Eric Contreras also has a lot of experience."
Along with size, strength and experience, the team has a secret weapon – new coach Tony Morales. According to Maxey, Morales "has more experience than most of the coaches out there."
Morales was a seventh year student athlete at Texas Tech where he played offensive lineman. He got to start at center in 2016, where he got to snap the ball to Super Bowl champion Patrick Mahomes.
"The NCAA gave me two extra years of eligibility due to suffering four consecutive season ending surgeries," Morales said. "After four years of rehab I stayed healthy and ended up starting nineteen games at Texas Tech."
Both Maxey and Zapata have high hopes for a season under Morales' coaching.
"He's the addition to the team that we really need, especially for the line," Zapata said. "He's picky, he wants to prepare us for college ball. He definitely knows what he's talking about, he loves coaching. He's made us take a lot of pride in how we play, taught us to play with more confidence. He coaches us really hard, which is what we need."
While coaches have huge impacts on their players, leadership on the field is up to the players. This year, the offensive line is made up of almost entirely juniors, so Zapata has stepped up to help.
"We only have one senior, Kadin Potter," Maxey said. "He's really stepped up to the plate, he'll go in at guard, he'll play center too. I really, really like Kadin. He knows he has to work hard, but this year we're looking at younger players to be leaders. I'd say the leader on the offensive line is probably Erick Zapata. He's the biggest guy."
Morales agrees that Zapata is one of the biggest parts of the team, and believes he sets the standard of what a student athlete should be at Kingwood Park.
"He has been starting on varsity since he was a freshman and is one of the most talented kids I have coached on the offensive line," Morales said. "He is never satisfied and is always looking for ways to improve. It is a blessing to have a guy like Zapata in my offensive line room."
Morales holds similar sentiments for Maxey, who is a disadvantage for being smaller than most offensive linemen.
"Maxey is a grinder, like Zapata he comes ready to work everyday," Morales said. "Normally goes against guys bigger than him but Maxey never uses that as an excuse. I can't say enough about guys like Maxey and Zapata who are great kids with high character. It is a blessing to get to coach those kids everyday. They never make excuses, they take ownership, and they have pride in what they do."
Although the offensive line is one of the most crucial parts of the team, they don't typically get much glory. 
"Attention usually goes to the guys scoring the touchdowns, but you get used to it," Zapata said. "Everyone on the team knows that the offensive line wins the game.  We're definitely the most important part of the offense, if we can't do our job they can't get anything started."
Zapata and Maxey often find themselves working together on the field, Zapata is the left tackle and Maxey is the left guard.  The boys have been playing together since the seventh grade, and both are inspired to play football because of their dads and older brothers. 
Offensive linemen tend to be creatures of habit. They don't want to catch or throw a ball, they have one job and they do it to the best of their ability. This year, the team has been focusing on their technicalities, getting steps and improving their football IQ. 
"I really just try to focus on getting stronger, quicker, getting better at understanding the game and increasing my football IQ," Zapata said. "I think you have to focus on gradually putting on weight, as you're putting it on, training to be explosive.  You have to play physical, be violent, be pretty smart, know what you're doing, know plays, and know different angles."
Last year's season was disappointing, so the boys have something to prove. The ultimate goal, like any sport, is to progress and win. 
"I think we're gonna be really good offensively," Maxey said. "All of our offensive lineman have come up together, most of us were sophomores last year, we have a very young offensive line. We had lots of offensive and defensive issues last year, but I think we're gonna have a really good year. "
Stats are hard to track on the offensive line, so what it comes the hard work put in by the team
"[Playing on the line] is incredible," Maxey said. "Coach Morales says it all the time, 'Nothing will work without the offensive line.' If you can't get the ball off, you can't score. If you can't make gaps, you're not gonna score. It's a lot of pressure because everything relies on a good o line. The biggest thing we can do is to show up.