Basketball remains Hamilton's passion
Jeffrey Hamilton started playing basketball when he was 4 years old. The head basketball coach played at Humble High School, graduated in 2000, and then went to play four years at Florida Atlantic University.  
"After graduating I couldn't imagine doing anything that didn't involve basketball," Hamilton said. "Getting to know these young men and building relationships is the best part about coaching. I hope to impact their lives in a positive way that will affect them for their entire lives."
He started his coaching career as a graduate assistant at Campbellsville University for two years and then coached eight years at Graceland University, seven years of those were spent as head coach.  He coached one year at Aldine Davis High School before arriving at Kingwood Park six years ago.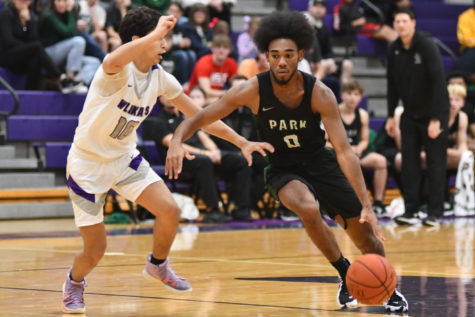 The relationships being built on the court are a main focus for the boys teams this year. 
"They are more similar than different; this team gets along really well and has great chemistry on and off the court," Hamilton said. "They care more about the team's success than individual success, which is very similar to last year's team."
Chemistry on and off the court is one of the most important aspects in the game. 
The boys varsity team has also experienced some change, most of it being from new students both this year and last.
"We've been very fortunate to get several move-ins during my time at KPark," Hamilton said. "What's impressive is that not only are they good basketball players, but they have been great teammates and human beings.  It's easy to coach players who are good people."
The teams are looking forward to the season, with high hopes and expectations of a playoff run on both sides. The boy's varsity team is full of experienced players  hoping to make their final year the best yet.
"The great thing about this team is all 12 can play; at any time any one of them could make a huge impact on the game,"