Bennett keeps building his legacy
Carter Bennett set down his drill, and the rest of the students working on the Tiny Home gravitated toward him. Some called his name and waited for Carter to give them new tasks. Others waited underneath his ladder, ready to pass him tools as soon as he asked.
As this year's Tiny Home head architect, Carter designed the floor plans for the Kingwood and Kingwood Park Tiny Homes and leads the Kingwood Park building group.
"
The kids listen to him. When they have questions and I'm not here they ask him. He's dependable, reliable. Aside from me, they go to him."
— Missi Taylor, architecture teacher
"He does a lot," architecture teacher Missi Taylor said. "The kids listen to him. When they have questions and I'm not here they ask him. He's dependable, reliable. Aside from me, they go to him."
Once or twice a week he also goes to Kingwood High School to help teacher Shellie Dick and his students with their first Tiny Home.
"He loves it when Carter's there because Carter explains what they need to be doing, where they need to be doing it," Taylor said. "For us, all these guys know him. For Kingwood High School, they don't know him but they respect him."
Carter helps reinforce the fact that the Tiny Home is a student-led project. When he isn't helping do that at Kingwood, he works on the newest Kingwood Park tiny home during 2nd, 3rd and 4th periods.
Carter's been building whatever he could get his hands on since he was a little kid. He put together 3D puzzles, model airplanes and many LEGO sets.
"We would get LEGO sets and they wouldn't last very long," Carter's mom, Amy Bennett, said. "It was amazing. We would be like, 'this would last maybe an afternoon.'"
In middle school, his building became more serious when he took two manufacturing classes. Since learning how to build pens in that class, he's made pens out of deer antlers and scraps from the Tiny Home counters.
"Anything he gets his hands on he can make a pen out of," Amy Bennett said.
Carter joined architecture his freshman year and said that the evaluation to become lead architect started the first time Taylor met him. For two and a half years he proved his ability to work well with others and his interest in the Tiny Home and holding a leadership position.
"You work your way up and she'll choose you," Carter said. "If you slack off and stuff she's not going to come to you."
Halfway through the last Tiny Home, Taylor had Carter work closely with last year's lead architect Parker Ryan in order to understand what his roles would be this year.
"[Architecture] has just turned into something so amazing [for Carter] and it's kind of guiding him in what he wants to do in college," Amy Bennett said.
While Architecture takes up a lot of Carter's time, his unique schedule was made to accommodate his heavy involvement in both school and club swim teams as well.
After his one period of swim and three of architecture, his only other classes on campus are art and aeroscience. Carter took English, Government and Economics online with Lone Star College over this past summer and now takes calculus online with there as well.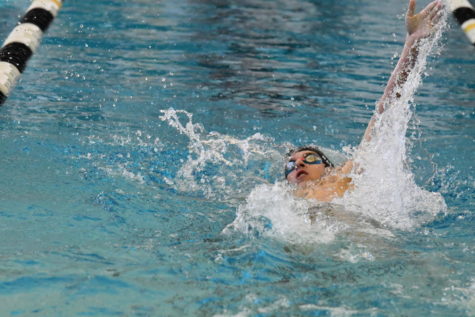 "I manage my time very well," Carter said. "Tiny Homes has its own time slot and then swim has its own."
Carter's been to the state swim meet every year, bringing home a bronze medal in the 200 medley relay, a silver medal in the medley relay and a bronze medal in the 400 free relay. He also broke the record for the 200 IM three times last season.
"He works hard and does what he needs to do," Amy said. "To get to that day where you need to perform healthy and well and ready to go, that's hard. And when you see that and you see it come to fruition it's amazing. And I'm excited for him because you want to see hard work pay off."
He described this year's swim team as small and new. He is one of only three seniors. His goals for this season are to medal in an individual event and get his name on the record board two more times, this time in the 500 freestyle and the 100 breaststroke. He uses his record as motivation.
"Just in the middle of practice when you just have no motivation you can look up there and be like 'I want to do that again,'" Carter said.
Similar to looking up at the record board in swim, Carter watches his own drawings become real in both the Kingwood and Kingwood Park Tiny Homes. While they won't be going home with him at the end of the year, like his state swim medals, they'll be going to something bigger.
"It's truly amazing to see my idea come to life and then you get to give it to a veteran in need when it's all done," Carter said.
View Comments (1)
Your donation will support the student journalists of Kingwood Park High School. Your contribution will allow us to purchase equipment and cover our annual website hosting costs. The journalism program at Kingwood Park is funded solely from student sold advertisements and community support.