Worth the Wait
Senior Lexi Shannon dominated the mat at the 5A Wrestling State Championships to win her second title.
A videographer set up on the edge of the mat to film the girls' 215-pound weight class at the 5A Wrestling State Championships, blocking the rows of fans behind him from seeing the match.
"Uh, excuse me," Lexi Shannon's mom Ronda Shannon said to the reporter. 
As the reporter moved to the side he asked, "Is this the one you've been waiting for?"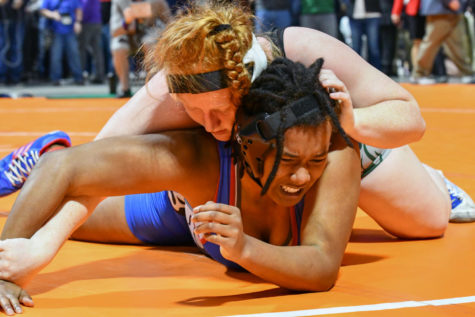 The family just laughed. For more than four hours they had waited to watch Lexi compete for a chance to defend her state title. 
After pinning her first three opponents in the state tournament, the biggest stage was set for Lexi to wrestle four-time state qualifier Samyra Thomas of Kashmere.
Thomas had dominated all of her matches at State. She entered the championship match with only two losses all season — both to Lexi.  
"By the time the finals match came around I was feeling nervous knowing how tough her opponent was," coach Jeff Knight said. "It is very hard to defeat a talented wrestler three times in a row. I had all the confidence in the world in Lexi being the best but knew this would be her biggest challenge.
"I just reminded her that she had to be ready for Samyra to come out extremely fast and to survive the initial onslaught."
Thomas came out just like Knight predicted and Lexi escaped a near fall in the first period. The second period belonged to Lexi, though. She pinned Thomas to secure the title and finish her senior year with a 50-1 record. 
"I'm still kind of on a high," Lexi said soon after the match ended at the Berry Center. "It just hasn't really sunk in yet, but it feels great that I was able to do this again."
This season was not easy for Lexi. She suffered from a high and low ankle sprain that left her in a boot for four weeks. 
"I definitely had a lot to recover from not only physically but like mentally getting myself back in the game," Lexi said. "It was tough but I got back there."
She also had to deal with the pressure of defending her state title, knowing people were out to get her. 
"Having had the experience of watching (two-time state champion) Maddie Sandquist last year was helpful," Knight said. "It is much harder to be on the top of the mountain and fight everyone off rather than being the one climbing to the top. She handled the pressure very well and always remained positive."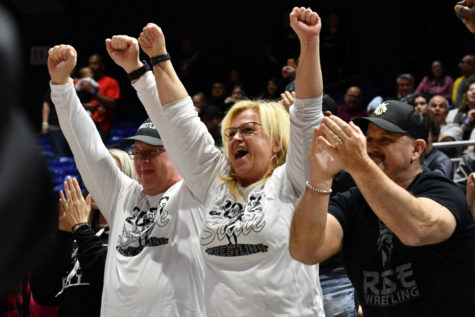 Last year, Lexi was able to win her championship alongside Sandquist. This year, the hardest part for her was going through the day as the only remaining member representing the school team. 
"This year it was like, 'Wow, that wasn't just luck. This year, I am Lexi Shannon,'" she said. "I am number one."
However, she still had a support system with her throughout the day. She had Rise wrestling club teammates and coaches there. Her parents and sister were there too, along with friends and teammates from Kingwood Park.
"It was awesome," Lexi said. "My parents are always there for me and having my club team there, they are my family too. I feel so loved and it's just so great having that."
Knight and assistant coach Eric Coovert had front row seats to another gold medal performance. It wasn't just Lexi's skill that made an impact on the team the past four years though.
"What I will remember most about Lexi is that for four years, every single day I saw her she always had a smile and a positive thing to say," Knight said. "She has been a true leader of our team and she has taken much pride in motivating and developing the younger members of our teams."
As Lexi finishes up her high school wrestling career, she said she will miss everything. 
"I'm gonna miss the people, the team, the girls, the guys, the coaches, competing and stuff like this," Lexi said. "College would be similar but I just won't ever be back in this arena and it's kinda sinking in."