Burningham races his way to state meet
Junior Trent Burningham looked up at his time after finishing his 800m race at the regional competition, and all he could see was a tie. He had been neck and neck with his competitors for a majority of the race, eventually missing out on state by mere 100ths of a second. 
"I was seeded first at regionals, but that's because two people didn't try at district and regionals," Burningham said. "I studied and saw what they actually ran was a 1:54. We were all next to each other during the last 200m, I was able to come out and get the same time as the second place dude."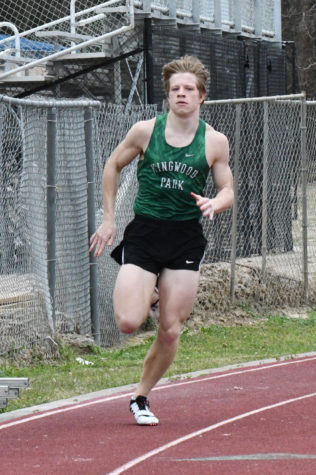 The top competitors from each region were taken to the state competition. Usually, a track is eight lanes, but the University of Texas at Austin has nine lanes, so what they do is take the top two from all four regions, and then they take the best third-place time, known as the "wild card." After shaving off nearly three seconds from his personal-best, Burningham was invited to the state meet as the wild card. 
"I was sitting underneath the stands, just waiting to hear what region four got," Burningham said. "Then Jose (Maldonado) came over and told me that I qualified, but I wanted to make sure. I ran all the way to Coach Elliott and he told me that I beat everyone from Region 4, so I qualified."
Burningham was one of the nine athletes who qualified for the regional track meet, and the sole qualifier for the state meet. He will be competing in the 800m race at the University of Texas at Austin on May 13.
This is his first year competing in the 800m, so he has no reference point in regards to improvement, but he has noticed an extreme improvement from past years in the 400m and 4x400m. His ultimate goal for the season was to make it to regionals, but now that he has achieved state, he just hopes to improve and place.
Burningham was on the varsity basketball team and making his transition back to track proved to be one of his biggest challenges. 
"I didn't start off the season too well and I just had to work really hard to get back in shape," Burningham said.
Through hard work and determination, Burningham has been able to earn his place at state. When he started the track season, he asked his coaches to let him run the 800.
"I didn't expect to go to state this year at all," Burningham said. "I asked my coach to run the 800m for school, and they put me in for districts. I got first at districts, and I did really good. Then, I went to area for the 800 and ran a 1:57, which was the same time as district, except that time it was easy for me to do. 
"At region, I ran a 1:54, so it has progressively gotten better."
Burningham's goal is to shave another second off of his time and place in the top five. 
Some of his favorite traditions are getting a good stretch in the night before a race, eating solely french bread the day of, and then reading his bible.
He hopes to continue his career past high school, with his dream school being Brigham Young University in Salt Lake City, Utah.
Burningham is looking forward to the state competition, especially because he is doing what he loves.
"It's just a feeling of accomplishment after working hard every day," Burningham said. "When you're in the middle of practice and you're hurting and your coach tells you to get back on the line it's hard. When you see results at the meets it just feels really good and beating other people is always fun.