Cross country teams prepare for biggest races
With the cross country season in full swing, the athletes are finally able to showcase the work they put in over the summer.
A year ago, sophomore Elina Bailey represented the girls team at the 5A State Championships. The boys fell just five points short of qualifying as a team for the state meet. 
"I hope to build from last year," boys coach Chris Elliott said. "We missed state but hope to make it this year. We just need to come together as a team and hold each other accountable."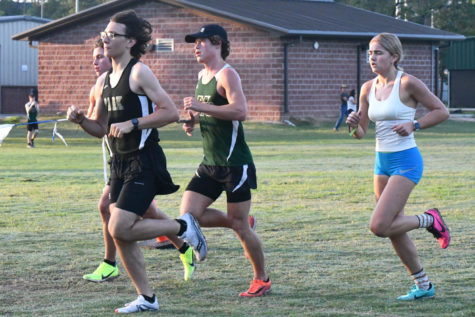 Coach Cody Cook said his team is working hard and has a familiar routine the athletes are used to following.
"We're not really having to change a whole lot," Cook said. "We have a process in our training that we follow pretty closely."
Both the boys and girls share similar ambitions. Senior Osvaldo Jasso said he is optimistic the boys are headed in the right direction.
"We're still getting there, we're still improving, but I think we got a real shot this year for state," Jasso said. 
Despite the physical demands of a sport like cross country, Cook said each runner's mindset is the biggest obstacle for them.
"We're very talented, but we're only going to go as far as we can push ourselves mentally," Cook said.
There are always positives that come out of the training they put in, and Cook especially noticed that the team has developed great relationships with each other.
"When you work out as much as we do year round, you really end up forming a close bond," Cook said.
The team's bond with each other demonstrates that at the end of the day, there's more to it than just cross country. 
"In and out of practice, we always just hang out with each other and enjoy ourselves together," Bailey said.
At the end of the day what matters most to Cook is that the athletes take advantage of these times and enjoy the moment. 
"We've still got a long way to go, we're not where we want to be by any means, but with the progress that we're making I do expect us to be in the mix for a district championship this year," Cook said.