Fostering Love
Erin McLain works with her mom to raise kittens for adoption.
As Jen McLain and her brother walked to school, they passed by a house owned by their neighborhood's resident "crazy cat lady." Everyday they saw what seemed like dozens of cats lazily lying around. Jen McLain loved those cats.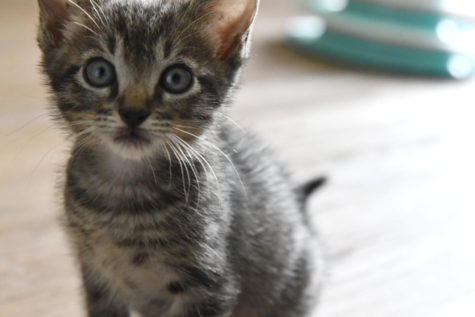 But as much as she wanted a pet, her mother wouldn't let her. So she resorted to secretly caring for injured cats around her neighborhood until they got better.
When she settled down with her husband, swim coach Greg McLain, and their daughter, junior Erin McLain, the family began fostering kittens about eight years ago.
"(I love) getting to see the new kittens," said Erin, "and always getting to play with them."
After fostering for so long they have gotten into the groove of receiving kittens and fostering them for about two to five months before taking them to pet stores and shelters to get adopted.
"It's been hard to take them to the pet stores," said Erin. "Letting go of litters that we've had for a while is the hardest."
When the McLains decided to begin fostering, they knew that they would need a place to put the kittens. Having an extra bedroom, they moved all the kittens' toys, beds, and litter boxes into the spare room and began using it as a safe space for the cats.
"I wasn't a huge fan of it (cat room) at first, but after seeing how good it is for the cats to have that type of space to grow and socialize and play, I became a believer," Greg McLain said.
After each litter is adopted, the family completely disinfects the cat room. They clean the toys, litter boxes and cat towers as they begin preparing for the newest litter of foster kittens. However things sometimes don't go as planned.
"(Mr. Fuzzy) was the runt of the litter," Jen said. "And that was a really large litter. He had like 12 brothers and sisters. And he was the runt, so he probably got the most attention, which is why we got attached to him. And now he's the biggest cat we own."
Yet, after more than 100 adoptions there are still some things with which the McLains struggle.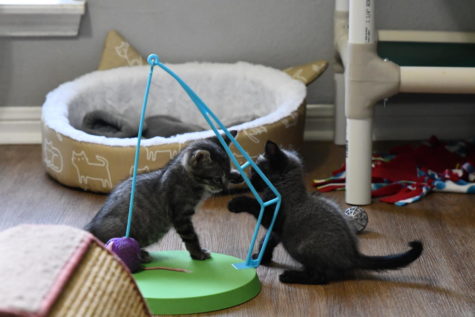 "We had an adult, Jack, who came with us and he passed away. So that was hard," said Jen. "That's when you either find them too late to help them or you find them and you just can't do enough to help them."
Although Jen and Erin foster kittens together, Jen also works to help control the cat population by trapping, neutering, and returning (TNR) community cats around Kingwood.
"If you have outdoor cats that are just in the neighborhood and you feed them, I will go out and trap them with a live trap and get them spayed and neutered usually at some low cost spay and neuter clinics here in the area," Jen said. "I'll take them there, they do the spay or neuter, they'll give them a rabies shot and I will hold them for 24 hours to allow them to fully wake up from the anesthesia. Then I will release them back to the area that I trapped them in.
"It's not bad to have outdoor cats, we just don't know if they are reproducing."
During COVID, the McLains began a TikTok account (@mclainkittenrescue). Jen McLain turned to her daughter for help and did a little research. The venture paid off. Since the account's creation it has accumulated over 43,000 followers and 871,500 likes.
"I have more pictures of cats than I do of Erin on my phone," Jen McLain said. "I have plenty of content. I just need to share it with everybody. I had already been doing Facebook Lives through Houston Pets Alive (HPA).
"I no longer have to buy cat food because people send me food and toys. I get bags of food randomly, toys randomly that show up from Amazon. I have a wish list in my bio that links back to Houston Pets Alive and to some info about what I do and so they can go check it out."
Since being on TikTok, the McLains have gained a lot of attention, which in turn has allowed Jen McLain to keep doing what she has always wanted.
"It's not a part-time gig," Greg McLain said. "When Jen gets home, she's working until she gets ready to go to bed in some form or fashion to take care of these cats. It definitely shows commitment."
Leave a Comment
Your donation will support the student journalists of Kingwood Park High School. Your contribution will allow us to purchase equipment and cover our annual website hosting costs. The journalism program at Kingwood Park is funded solely from student sold advertisements and community support.