Charter buses give coaches needed break
On a Tuesday early in the season, tennis coach John Macapaz and his team faced a daunting two-hour bus ride to a match in Lufkin. The coaches and athletes left school during flex hour to arrive at Lufkin around 3 p.m. They left Lufkin High School at 10 p.m.; and including a stop at Whataburger for dinner, the team did not arrive back in Kingwood until midnight.
"
Our match went five hours and the last thing I wanted to do was drive two hours in the middle of the night."
— tennis coach John Macapaz
"Our match went five hours and the last thing I wanted to do was drive two hours in the middle of the night," Macapaz said.
Fortunately for the tennis program, the district is chartering buses with hired drivers for the new distant district match-ups.
"That was a blessing," Macapaz said. "That made a world of a difference for me. It took a huge stress off my back."
Were the tennis program unable to procure a chartered bus for the match, Macapaz would have been forced to drive the bus himself, after a full day of coaching and teaching.
Kingwood Park sports programs had not experienced such distant opposition in district play for years.
This development, among others, came as a result of the new district alignment that was dictated by UIL.
In late January, representatives from each school met at the Regional Service Center to receive an envelope detailing the results of the new district alignment. The information was published to the UIL website on Feb. 3.
Macapaz said he was shocked when he heard who Kingwood Park's district opponents would be for the next two years.
Sports programs, excluding football, saw the addition of Huntsville, Lufkin and Nacogdoches into District 16-5A.
These new schools join Dayton and Porter, which remained from the previous seasons. Because District 16-5A is now a 6-team district, all but two teams will occupy a top four position and advance to playoffs.
This factor, combined with the uncertainty of facing unfamiliar opposition and the trials of hours long bus rides shook up the competitive status quo, forcing coaches and athletic directors to make adjustments.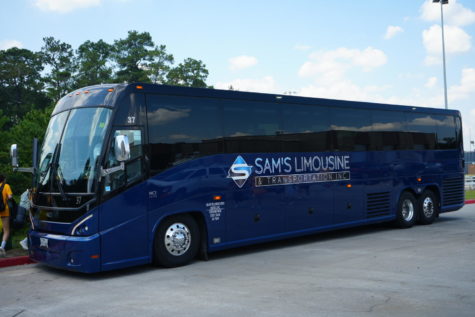 Going into the match against Lufkin in September, Macapaz didn't know what to expect.
Macapaz was nervous about how the two-hour bus ride might have affected the performance of his team, but the Lufkin coach allowed extra time to warm up and loosen muscles.
"The coach was definitely understanding of it, because he had just had the drive from there to Porter," Macapaz said.
Boys' basketball coach Jeffrey Hamilton has already looked closely at his team's schedule.
The boys' basketball team travels to Lufkin and Nacodogches in January, and both games are set to occur on Tuesday nights.
Hamilton is glad to have district backing for chartered buses, which he estimated cost between $1,500-$2,000 each time they use them.
"Being that (coaches) work all day as teachers and then have to be back at school really, really early – from a safety standpoint, we have pretty much decided to charter it," Hamilton said.
Charters allow every member of the program, including coaches, to relax and do what is necessary to prepare.
With charters taken care of, Hamilton regards unfamiliarity of the new teams as the biggest challenge associated with the new district alignment. His program will have to adjust and learn their new opponents in order to prepare, as opposed to the outgoing teams that Hamilton and the program had years of experience playing against.
Hamilton also predicts an increase in the quality of district competition this season, citing Lufkin as a strong challenger.
After success at the Lufkin match, Macapaz said he feels great about the trajectory of the tennis program and predicts a district championship.
"(I'm) looking forward to getting an idea of what we're dealing with, and now just making the most of the new opportunity," Macapaz said.