New Woodland Hills playground brightens community
Humble ISD is building new playgrounds at 30 elementary schools.
The sound of running feet on sand and dirt filled the air as students were released to recess. The kids had only one goal in mind, be the first one on the dragon. Squeals of delight and bliss occupied the area around Woodland Hills Elementary as children saw the playground for the first time since May 2022. 
"Every couple of days kids would say, 'When's it ready? When is it going to be ready?' And I kept saying, 'Soon, soon' but I could never give them a real date," Woodland Hills Elementary principal Cindy Barker said. "And then, right before our fall break, they took down the netting that was around it. So then the kids could actually see it. And that was even worse because they were just like little puppies looking through the cage, wanting to come out and play."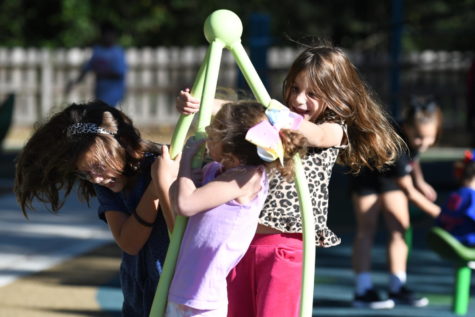 With the large playground out of commission for so long, 3rd, 4th and 5th graders had nowhere to play for recess. So with a little help from P.E. teacher Charles Briganti, they moved the kindergarten through 2nd grade students to the Healthy Heartfield to play. With the Heartfield just being a large open space for kids to complete their laps for P.E., it made it harder for the younger students to really enjoy themselves. So, Briganti provided them hula hoops, jump ropes and playground balls.
While the smaller kids got the Healthy Heartfield the third through fifth grade students got the Plum Valley Playground, which is on the other side of the building. Plum Valley was renovated in 2015 but is significantly smaller than the current playground. Although it was a big change for the students, they knew that the new playground was going to be worth the wait. 
"[On] our other playground, we had a rock wall, big swings and a zip line – things that kids can jump and hang on – but nothing where it was just one big unit where kids can run and play throughout," Barker said. "So some of those pieces got used, but often a lot of them didn't because the kids maybe didn't know how to play on it or they couldn't necessarily play together on those kinds of equipment."
Being one of the oldest schools in Kingwood, Woodland Hills Elementary has seen  improvements and change happen nearby, including a brand-new building for Kingwood Middle School just a block away. The administration and teachers waited patiently for the new playground, which began being planned in July 2021.
Community members showed up in late October to celebrate the grand opening of the park. As elementary, middle, and high school students arrived at WHE they were greeted by Kingwood Park's JV cheer squad and the 3rd grade choir students led by Jennifer Heyl. The children sang songs from their upcoming Veteran's Day program. Barker, along with superintendent Dr. Elizabeth Fagen, spoke a few words to those who gathered at the grand opening.
Sophomore Sophie Reed, a cheerleader and Woodland Hills alumni, welcomed parents and students to the new playground.
"The old playground was kind of run down, it was just a little old. I feel like it was a needed update." Reed said, "The [new playground] is really big, we actually fit the entire cheer team on it."
Barker said she is happy to share the new addition with the community. 
"It's obviously to upgrade our school for our kids," Barker said. "But then also this is the place to be after school and on the weekends. There are so many people and families who bring their kids here. They have lunch and the kids hang out on the playground. And so really it's a community asset, not just a campus asset."
Leave a Comment
Your donation will support the student journalists of Kingwood Park High School. Your contribution will allow us to purchase equipment and cover our annual website hosting costs. The journalism program at Kingwood Park is funded solely from student sold advertisements and community support.