Later, Gator
Lily Bruce verbally commits to join Florida Gator gymnastics team
Junior Lily Bruce had an eventful summer. She found herself being pulled between representatives of various top-level college gymnastics programs, like UNC, Stanford and Auburn. They were sending emails and extending invitations to visit.
"It was super stressful, to be honest with you," Bruce said. "There was a lot of people, a lot of good, good colleges who did reach out to me. I had to come up with the top 5, even though I'm 16 – I don't know what I'm doing."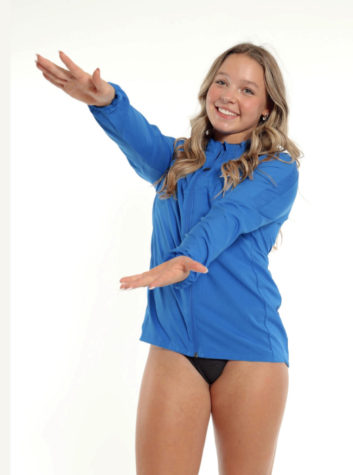 Bruce eventually decided to verbally commit to the University of Florida, where she was offered a full athletic scholarship. She was impressed by the facilities the university offered their athletes and the academic side of the school.
She also approved of her future teammates and the success of the program. The University of Florida gymnastics program has won 13 SEC titles since its inception in 1972 and is currently ranked No. 2 in the nation.
"It really just came down to going on my official visit and really seeing where my heart was leading me," Bruce said. "Being on a good gymnastics team is what I wanted to do. [Winning] some championships with the team and the girls that you love is really important to me, so it'll be good for me."
She and her coach, Cecile Landi, see her full-ride scholarship as a reward for the years and countless hours that Bruce has spent training.
"I am super proud of her," Landi said. "It hasn't been an easy ride with some injuries, but she has worked so hard and was able to give herself the chance to have many amazing choices to continue her academic and athletic careers. It's a huge accomplishment."
Bruce has had to deal with numerous injuries, including breaking a toe, breaking a collarbone and tearing a hamstring. The broken toe, occurring shortly after the return from quarantine, was especially bad. Bruce had to undergo surgery to place screws into the toe.
Injuries are only one of the many sacrifices Bruce made in order to reach the level she has in gymnastics. Before the COVID pandemic in 2020, Bruce was on a competitive track that would have prepared her for Olympic competition. Bruce was home schooled during this time, and trained for 34 hours a week.
"It takes up a bunch of your time," Bruce said. "I was literally home schooled, so I could go to practice six and a half hours a day, which was not ideally what I wanted to do."
"
It takes up a bunch of your time. I was literally home schooled, so I could go to practice six and a half hours a day, which was not ideally what I wanted to do.
— Lily Bruce, junior
Bruce reconsidered following the COVID pandemic and decided to cut back. Her training hours dropped to 24 hours a week, and because of this Bruce now has time to attend school. She currently maintains a daily practice schedule and leaves school every day after flex hour in order to make it to the gym on time.
Her mom, Gretchen Bruce, acknowledges the commitments Bruce made to achieve this level of success, citing online school, hours upon hours of training, and the unique effort to balance gymnastics with friends and social life.
"Looking back all these years later, you know, it's like, wow, she has committed so much of her life to gymnastics," Gretchen Bruce said.
Gretchen Bruce said she knew her daughter was talented when she witnessed her swinging across monkey bars at the age of two and a half. When she was four, her mother enrolled her and her twin brother Finn in tumbling classes.
Bruce took to it immediately and eventually ended up at the World Champions Centre gym in Spring, where world-class athletes such as Simone Biles, Jordan Chiles and Madison Kocian train.
Bruce competed in the May 2022 National Championships in Mesa, Ariz. She finished 3rd all-around in her age group, and 8th in the nation out of 672 competitors in all age groups.
Bruce will continue to train at WCC and maintain her academics in preparation for her life at University of Florida.
"Florida is going to be a great fit for Lily as she was looking to be in an amazing school with great academics and incredible athletics," Landi said. "I expect her to be amazing and hopefully win a championship with the team!"