Change of pace
Ian Ganem shifts his focus to pool after injury cuts his cross country career short.
When the boys cross country team went to state, former teammate and senior Ian Ganem followed along from home.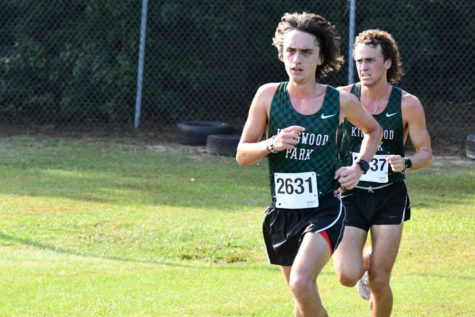 "I was filled with gratitude, I was very happy they finally got there," Ganem said. "It made me realize, they're big boys now, they're fast, and they can do it."
Last year, Ganem was a part of the cross country team that fell just five points short of reaching State. He was the top finisher on the team at Districts and finished in the top four on the team at Regionals. He said he felt as though he left all he had on the course that day. When the team did not advance, Ganem was upset but he took it as motivation to work harder.
With a love for running and success in cross country, Ganem took part in the 2022 Houston Marathon. That race would cause major changes for him due to a leg injury he sustained as a result of the marathon.
"I just felt like I couldn't perform like I used to," Ganem said. "It took me months to decide whether I was going to switch sports or not."
After months of pondering the topic following the injury, Ganem eventually decided to join the swim team for his senior year. It was a sport he had some previous experience in, however, this did not change the fact he still loved running and his old teammates.
"I think without a sport or program I can join, I'm not myself," Ganem said. "I'm not Ian. It's like I kind of lack motivation in some regards."
Due to the similarities of the two more individualized sports, Ganem was able to carry over some knowledge he learned during his running career. He said the swim team was welcoming and appreciated coach Greg McClain helping him get involved.
"He made the transition feel somewhat seemless," Ganem said.  "He made me feel like I have another home, another family. When it comes to athletics."
McClain described Ganem as well-mannered, hard working, as well as a great communicator. He is impressed with the progress Ganem has made so far and hopes to see that trend continue throughout the season.
"It's not necessarily what he does in the water that's helping us a lot, it's what he does out of the water," McClain said. "Just the way he handles his business, his grades, the way he interacts, and his overall attitude are really the kind of things we want rubbing off onto our younger athletes."
Leave a Comment
Your donation will support the student journalists of Kingwood Park High School. Your contribution will allow us to purchase equipment and cover our annual website hosting costs. The journalism program at Kingwood Park is funded solely from student sold advertisements and community support.