Silver Stars make special memories for Solustri
Tears welled in the eyes of Italian exchange student Elena Solustri as she was told that she would be performing with the Silver Stars during one of their halftime performances. Solustri had watched the girls dance from the crowd and never dreamed she would be able to join them.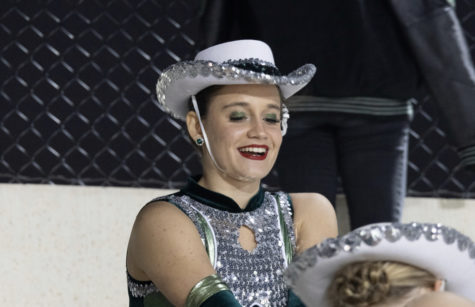 "It was like a dream that came true and it was so special," Solustri said, who has spent the year in the dance one class.
Being a rhythmic gymnast in Italy, the drill team world was very different for Solustri. After an overwhelming practice and a great deal of support from the team, she pushed through and learned the dance.
"I knew that it was going to be overwhelming, but everyone helped me so it was easier with time," Solustri said.
A highlight for Solustri was getting ready with the team. She enjoyed the time spent with everyone before the game began.
"It was awesome because everyone helped me with makeup and putting on my uniform and also tying my hat, so I loved it," Solustri said. 
Being on the field was an incredible experience for Solustri. Dancing under the stadium lights with her team of new friends was something she will never forget. 
"You're performing and your body goes by itself," Solustri said, "you don't realize you're there."
Even though her family and friends may be back in Italy, Solustri still has her host parents, Leslie and Bryan Fiscus, as her loudest cheering section. 
"They were so excited and they are so proud of me," Solustri said, "they make me feel so loved."
Even though she doesn't return to Italy until June 1 she knows that she has already made one of her best memories in America with the Silver Stars.
"I [will] remember forever the two weeks that I spent with Silver Stars," Solustri said.