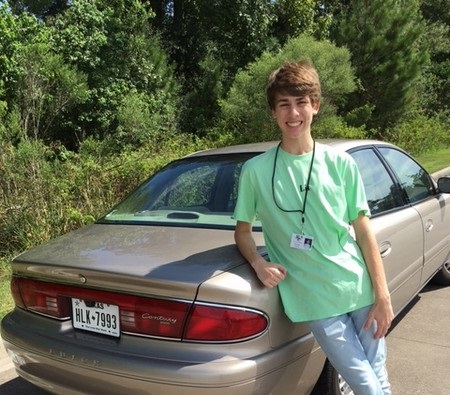 "I used to depend on my mom for rides to go photoshooting at games, but now it feels great to have my own transportation," - Michael Horton, junior.
---
Michael Horton recently acquired his driver's license - proudly receiving a
90
on his exam, despite his apparent turning difficulties.
He also got his first car.  
A 2000 Buick Century,
previously owned by his grandparents, Herbert and Penny Kemp. His grandfather died in April. Horton knew he would receive the Buick  prior to his grandfather's death. But after his passing, Michael felt a special connection to the car. Registered in his name, the new license plate number contained the letters, HLK - the initials of his late grandfather.
---
- 
Matthew Ogle
, Staff Reporter
Michael Horton, Staff Reporter / Social Media Manager
Sep 25, 2017

Slideshow: Panthers defeat rival Barbers Hill 13-7

(Media)

May 23, 2017

Kodak Black dropped his first album, but was it fire?

(Story)

Mar 10, 2017

A blast from the fast – new fast food in Kingwood

(Story)

Mar 10, 2017

Opinion: internet meme gets a "Ruff " response

(Story)

Mar 10, 2017

Matthew Flaherty looks to continue football career through college

(Media)

Dec 13, 2016

Boys basketball finds chemistry

(Story/Media)

Dec 13, 2016

Senior guard Teddy Napalit is no stranger to adversity

(Media)

Oct 27, 2016

Time may fade, but Panther pride never goes away

(Media)

May 26, 2016

District Track Meet [Slideshow]

(Media)

Mar 07, 2016

Track Meet [Slideshow]

(Media)

Feb 16, 2016

Girls Basketball [slideshow]

(Media)

Feb 12, 2016
Feb 04, 2016

KP Sports on Super Bowl 50 [Video]

(Story)

Jan 22, 2016

Students talk on recent NFL plays

(Media)

Jan 12, 2016

[Photo Gallery 1-8-16] Senior Night at swim

(Story/Media)

Nov 05, 2015

After dominant first round win, girls look to tonight's game [Photo Gallery 11.3]

(Story)