Orchestra creates special night for new director
Orchestra held their Winter Concert on December 6 and before their finale, they played orchestra teacher Evan Farmer's favorite piece "Such Sweet Sorrow" by Jeremy Woolstenhulme. Senior Joe Weidemann, the orchestra president, directed the orchestra.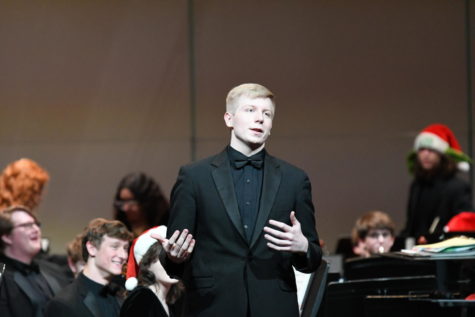 "That piece is super special to me," Farmer said. "It's the piece that I did with my last eighth graders at Riverwood, which were far and away the best group that I had ever taught there. Then, it was the piece I played with my seniors last year at Summer Creek."
At the fall concert when the orchestra played another piece by Jeremy Woostenhulme, Farmer mentioned in passing that "Such Sweet Sorrow" was his favorite but never mentioned why. Weidemann and the other orchestra members remembered this. They wanted to make Farmer, who took over the reins of the orchestra program this year, feel welcome and thank him for how much he has done with the program since arriving in August.
"We had the idea a few months ago to – as sort of a welcoming gift for Mr. Farmer – play his favorite piece at our concert," Weidemann said. "We ordered it and worked on it. We luckily had two days where he unfortunately got sick and wasn't in class. During that time, we were able to work on it and bring it out to surprise him at our concert."
It was the very last song at the winter concert. And for Farmer, it was an unforgettable moment. 
It reminded him of Mr. Holland's Opus, a movie about a music teacher who started writing a piece at the beginning of the film that took him 20 years to finish and at the end of the movie all of his students come back and play the piece.
"We all kind of have this Mr. Holland's Opus moment that we would love to have in our career," Farmer said. "So to have that happen for me, it was kind of like my Mr. Holland's Opus moment."