Zapata chases childhood dreams with parents' support
Erick Zapata was in elementary school when he first asked his mother to let him play football. Worried about her son's safety, Edna Peña emphatically declined.
"No!" Peña told Erick. "No! No." 
Erick insisted, though.
"Mama," he told Peña, "if you don't let me play football I will never forgive you."
Peña, shocked by her young son's verbiage, ultimately let Zapata play the sport. That decision served her son well as he eventually became one of the best offensive linemen in Kingwood Park history.
* * *
Zapata was only 14 years old when he lined up on varsity against defensive linemen who were older, heavier and taller. 
He vividly remembers struggling in the first few games. He admittedly did not have much of a clue what was happening on the field sometimes.
By the fourth game Zapata gained more understanding and found his home on the offensive line.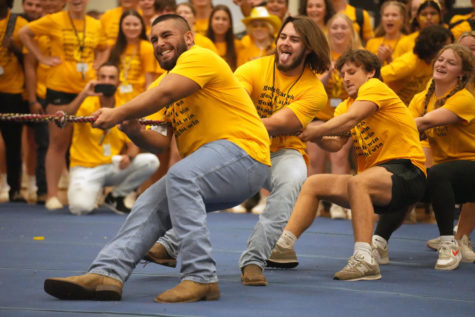 By his senior year, Zapata hardly resembled the nervous 6-foot-1, 240-pound freshman. Growing an inch and gaining 50 pounds, he earned the title "dad" from his teammates due to his mature attitude, big stature and full beard. 
Erick, who was named first-team all-district offensive lineman this past season, committed to play at Texas Southern University after receiving a full-ride scholarship offer. 
"It's really good to see all that hard work and doing things the right way as a young man pay off right with an opportunity to go play the sport that he loves at the next level," football coach Clayton Maple said.
Maple saw Erick's talent early. Catching the attention of college recruiters was more difficult. Offensive line coach Tony Morales said colleges often look for linemen to be at least 6-foot-3. The former Texas Tech lineman also wonders if stereotypes may have hurt Erick.
"There's a stigma out there that most offensive linemen that are Hispanic aren't very mobile and can't move very well or aren't physical," Morales said. "He's all that. He's physical, he moves very well. He's smart. He takes pride in [being Latino], and he's a great leader for our team."
On the morning of his 18th birthday in August, Erick received a text before the Panthers' season opener. Manny Ramirez, the offensive line coach at Texas Southern, offered him a spot on the team. 
That same night, Erick helped lift the offense to a 45-7 victory – kicking off what would be one of the most successful seasons in school history. 
* * *
Erick has been a serious kid for as long as his dad Armando Zapata can remember. Erick carries that demeanor into football. The first year Erick played football, he lost only one game. The 10-year-old football player cried over his first loss.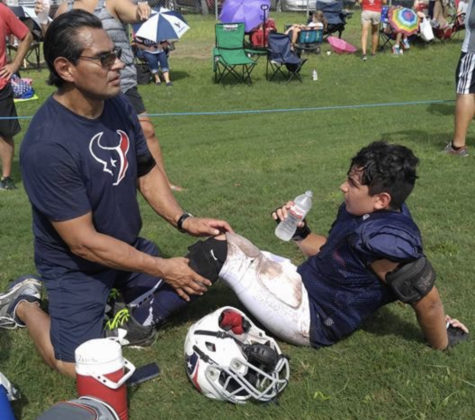 "I said 'Erick, you are going to lose many more games. Believe me, it's OK,'" Armando said. "He was always a very serious kid, and everything he does he takes it real serious."
Erick doesn't indulge in distractions like social media before games. He is locked in and focused on the game ahead. Unlike many of his teammates, music is not a part of his bus rides or pre-game routines.
"I just like complete silence. I don't even talk to anybody," Erick said. "I don't want to listen to anything. I just want to think about the game, and that's it."
Erick is known on the team to lead by a quiet example. He can constantly be found perfecting his craft in the weight room and on the field.
When the linemen were struggling during the 2021 season, Erick organized a meeting and lit a spark in his teammates. The team eventually snapped its six-game losing streak and ended the year with three consecutive wins.
"He's the type of guy that comes every day and is just really good at what he does, like he does not take off days," senior quarterback Patrick Overmyer said. "He just brings aggressiveness. He's not going to trash talk or any of that. He's going to put you in the dirt and he's just gonna do it again the next play over and over again."
* * *
After seeing a photo of his half brother Nick Zapata playing football at Illinois State, Erick told his father, "I want to be like my big brother."
Erick's father and brother were scholarship athletes in football. His dad played at Abilene Christian. Nick was also an offensive lineman at Illinois State. 
Erick's family has always been an inspiration for him while playing football. His parents never miss games.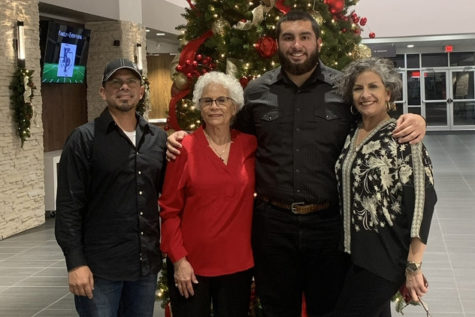 "Time flies, you have them here for one minute and the next minute they're gone," Armando said. "I learned by having [my first kid]; you just enjoy every minute you can possibly with them."
Armando, who is a personal trainer in the Galleria area, catches up with Erick weekly over Sunday brunch. 
Armando coached Erick for years; but when Erick got older, Armando realized it was better if he had other people coach Erick. 
When high school football started, Armando promised Erick he would no longer yell his son's name during games. Armando could still be heard yelling to the refs though. 
His mom Edna Peña is less vocal in the stands but no less supportive. Erick lives with her and lists her among his best friends. 
When Erick starts his journey at Texas Southern, his family will continue to show their support for him.
"My family's definitely happy that I'm playing close to home, but they would be happy no matter how far I am," Erick said. 
After hesitantly agreeing to let him play football eight years ago, Peña promised she would never miss any of his games.
Peña has kept her promise for the past eight years. Now, she and Armando Zapata plan to be fixtures in the stands at all the Texas Southern games.