Tiny Home progress continues despite delays
Progress on the sixth Tiny Homes structure came to a screeching halt this month. For the second time, thousands of dollars of equipment was stolen.
"(Everything) really kind of came to a halt because we need framing, we need nail guns to help us continue with our process," said architecture teacher Missi Taylor. "Nail guns, impact drills, different things that we use to cut our material – that's all gone."
Since the beginning of the school year, more than $16,000 of equipment and tools have been stolen from the Tiny Homes construction site. Teachers have offered the program places to put their remaining tools. Cameras and motion detectors will also be installed on the site to prevent something like this from happening again.
"It's frustrating because this is the second time that it's happened to my veterans," said Taylor. "I think it's harder for (lead architect) Marshall (Burke) when he showed up that day to work. It's just a big downer."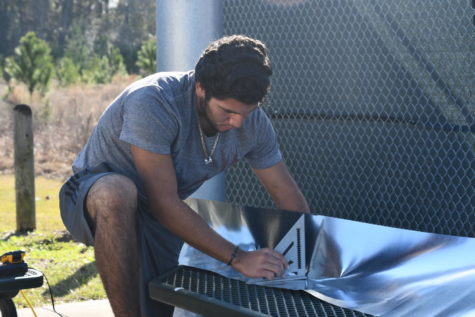 Along with the tools being stolen, the program was a month behind. The previous home, as well as the bath structure they built last year, stayed on campus until this fall because its longterm home in Liberty, Texas, was under construction. Despite the issues, the Tiny Homes team still expects to meet their deadlines.
"We might have to start working weekends in order to meet our deadline," Taylor said. "I was an architect and worked with contractors my whole life. And so for me, meeting deadlines is a big thing and it's unacceptable to not meet a deadline. Time is money. And in the real world, if they don't finish their projects on time, that will impact their job and it will impact their future."
Although the struggles with this new structure have been daunting, the Tiny Homes team is persevering and making progress.
"Every year there's going to be difficulties and challenges and we're having to work through those right here right now," said junior Andrew Hennings, the next Tiny Homes lead architect. "But at the end of the year, it will all be worth it and we'll have a nice house."