Home Sweet Home
The latest Tiny Home will be moved and donated to a veteran in need soon.
The fifth Tiny Home is near completion, and the students couldn't be happier to start on the program's sixth home.
"We don't have an exact date, but for sure it'll be the beginning of next month," said senior Marshall Burke, the lead architect of the sixth home. "This year, it's going to be a bigger indoor space and they're going to try and do a loft, which we don't know yet. It's going to be really difficult."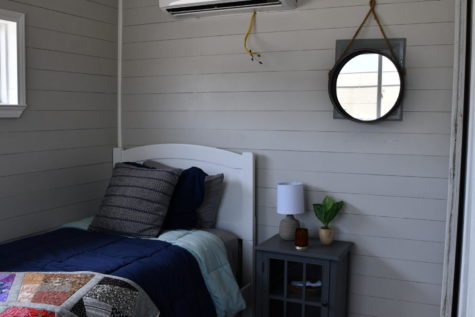 As Burke's second year on the Tiny Home team and first year as lead architect he's already put his all into the role, building a 3D model for the team to visualize his ideas for the newest home. 
"Compared to last year, Marshall was focused a lot on baseball at the end of the year and throughout the summer, which he understandably told me from the beginning," construction management teacher Missi Taylor said. "So once he finished baseball and committed to Florida Tech now he's mine. Now he's committed to us and he's been working his butt off." 
The architecture team has recently partnered with Operation Tiny Home (OTH), who has funded about $2.5 million that will be used to put septic systems, electrical lines and clear the site where the veterans and homes stay at the Langetree Retreat & Eco Center.
"That's going to be really big for them because currently Barbara Lange, who owns the property, she's having to pay all of these electrical bills and they've tripled since all of these people have started living on her property," Taylor said.
Finishing the fifth house has not been without its challenges. Over the summer the Tiny Homes crew continued to work on both the home and the new bathhouse. But after the team came back from their 4th of July break, all of their tools were gone.
"There were $10,000 worth of our tools stolen," Taylor said. "So you know, we came to a screeching halt because we had nothing to build with. We only had saws to chop with, but we couldn't nail anything together. Screwdrivers, little bitty things all the way down to sandpaper. We didn't have it."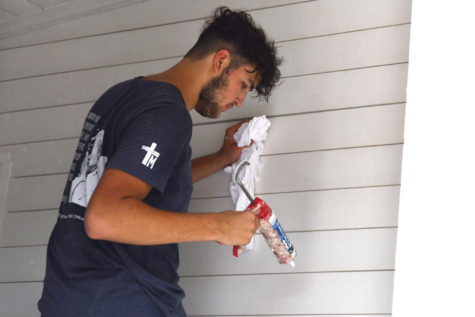 Eventually, the school district and insurance were able to recoup and pay for all new tools.
As construction is currently underway on campus for an indoor facility for future Tiny Homes, Taylor is glad her students will have a safer place to store all of their tools and protect their projects from weather conditions.
"It'll help a lot because we'll be able to work more," senior Luis Canas said. "We won't have to worry about weather, the rain, and we won't have to tarp anything, which is also a big hassle." 
The fifth Tiny Home will depart to the Langetree property in Liberty sometime this month, and the students couldn't be happier to present it to a homeless veteran.
"(I love) the smiles that it brings to the veteran's face whenever you give them the house," senior Joseph Stephenson said. "It's kind of just fun being out here with your friends, just helping others. It's good."