Crew prepares to finalize latest Tiny Home
The Construction Management I & II class, also known as the Tiny Homes team, nears the end of their latest Tiny House build. They started building the year's house Aug. 11. They not only are building a house, but they also are building a bathhouse that will have showers, toilets and sinks for the previous houses.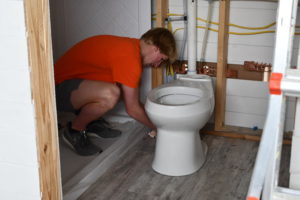 Both the bathhouse and the Tiny Home were designed by senior and lead architect Carter Bennett.
This year they built a hip roof, which has four sides that slope downward onto the perimeter walls.
"The biggest challenge was the roof because of all the angles that went into it," Tiny Homes coordinator Missi Taylor said. "Well, the roof and our plumbing."
The plumbing was a big change to the Tiny Home, but one they said they were glad to make. It was a challenge for them but it upgraded the home. They are now planning to add plumbing to all their homes in the future.
"It's 272 square feet so it's bigger than last year and the year before," Taylor said. "It is 12-feet wide by 27-feet long."
Since the house is bigger by 7 feet than the old ones, moving the house to the Langetree retreat will require extra structural support. The house was designed to be placed among the other homes at Langetree, which are specifically designed to house homeless veterans.
A young crew built this year's house.
"There were only four veteran students," Taylor said. "So the rest of them are all brand new to construction. That was a little bit of a challenge, but now everyone's got it down."
Senior Ricky Martinez is a team captain on this year's home and enjoys participating in another creation.
"I like building the framing of the house, we get to use the power tools and nail gun and stuff like that, that's definitely my favorite part," Martinez said.
They have overcome many challenges and had memorable moments throughout this year.
At one point the walls were leaning inward. While Taylor was out of town, the team FaceTimed her as they tried to fix framework issues. Their creative ways included creating a contraption to connect a leaning wall to Bennett's Jeep. As he drove forward, they watched to see if the wall would straighten.
Taylor loves to watch the progression as the team gets stronger in their skills during the year.
"They do a lot, and now they just take it for granted," Taylor said. "They don't realize what they're doing. They just come out knowing what they're doing, get it done."