Crafty Corner
From crafting on the side and making cow shirts for her daughter, Algebra teacher Hannah Morgan now runs her own small business at The Painted Tree.
"My daughter was about 2 and she was obsessed with wearing cow shirts and I was like, 'I cannot afford to buy my kid cow shirts and they only make so many tiny cow shirts,'" Morgan said. "There's not that many options and so I started making shirts. I had always been creative. When I was in college, I had a small Etsy store and so I just kind of continued."
Originally starting on Etsy, Morgan decided the online marketplace wasn't for her. She wanted interaction with her buyers. She heard about The Painted Tree several years back from a friend who lived out of town. The idea of a lot of small businesses in one building was really cool to her. When she heard there was one opening in Kingwood, she knew she had to check it out.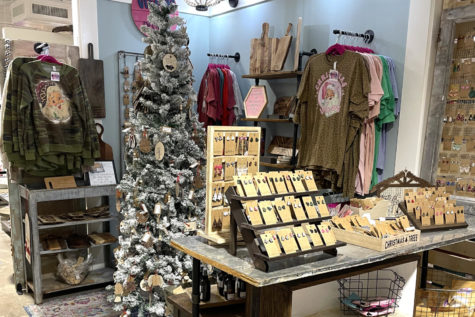 "I really wanted to know the people that I was selling to because that is part of the joy, to see people enjoy the things that I made, or it makes them feel pretty or they display it in their house and they enjoy looking at it," Morgan said. "I wanted it to be a more personal experience than just making something and sending it in the mail to somebody that I'll never see."
The Painted Tree was the perfect mix for her and it works really well with her tight schedule as a teacher and a mom. Morgan loves The Painted Tree environment. She finds it to be welcoming and has enjoyed being a part of the community. Her shop is called "Vintage Cow Designs," where she sells mostly women's items including shirts, home decor, cutting boards with engravings and earrings that she makes.
When Morgan first started selling her crafts and making shirts she got a lot of positive feedback from her fellow teachers. They would often see her wearing cute teacher shirts and ask if she could make them some. World History co-teacher Talya Bean has been buying items from Morgan since she started and considers herself Morgan's #1 fan.
"I've bought a million t-shirts, she's made lots of teachers gifts for me, little water cups that are cute, sweatshirts galore, just anything I need she can make it," Bean said.
Most of Morgan's crafting takes place at home on the weekend where she gets a lot of support from her husband. It can be challenging to juggle crafting, teaching and raising a daughter but Morgan always makes sure her family comes first.
"I have to make choices and sacrifices, but are they worth it? Yes," she said. "Do I sacrifice family time? No, because that is my number one thing, so I just have to make a balance but it is worth those sacrifices."
Since starting her business, Morgan has invested her profits to buy new machines for her store so she can keep crafting. It's been a six-year process for Morgan to get to this point with her business and she's still growing.
For those interested in starting their own small business, Morgan suggests giving it a try.
"Just work hard, ask other people for advice, find other people that will cheer you on, that will support you, that will give you good advice and keep those people close to you," Morgan said.