Major changes ahead as construction expands to front entrance
The library is being packed up in preparation for construction on the front entrance. The library will be shut down, as well as the front entrance of the school, by spring break as the school receives a makeover to its main entrance. Construction is scheduled to be finished around the middle of July.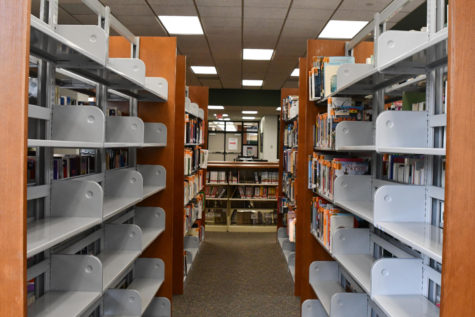 "The main entrance is oftentimes difficult to find," principal Wes Solomon said. "We're going to take that front entrance and kind of protrude it outwards where it's going to become very visible." 
Construction on the school started last summer, with the plan of building a courtroom, culinary class, architecture class for Tiny Homes and a third gym. The foundation has been set for the culinary area, architect building and the third gym. 
While an inconvenience at times, the third gym will provide an additional practice area during inclement weather days. Overall, disruptions have been minimal.
"[A challenge from construction is] noises all the time," tennis coach John Macapaz. "Well, with it being right across from the tennis courts, we always hear stuff going on. So when we're in drills and I'm talking to kids, a lot of times they hear it and their minds tend to wander."
More issues are about to arise, however. With the front entrance makeover, the entire front circle will be shut down – moving bus drop off, the attendance office and the front reception area to the lobby of the auditorium on the south entrance of the building.
The library will also be completely closed off for the final nine weeks of school.
"All of [the books] need to be packed because they're going to take the wall down and they're turning off the air in here, and the humidity will affect the books," librarian Jessica Castile said. "[The humidity would] cause them to mold and mildew."
Castile said she hopes for a mobile library that will be open during Flex Hour for any student who needs to return books or wishes to check out more. The books will be stored in an off campus warehouse. 
"[The biggest problem is] just losing the access to the resources and the books, and the research things that everybody takes advantage of – teachers and students," Solomon said.